Shenzhen, China, Nov. 06, 2023 (GLOBE NEWSWIRE) — XPPenintroduces the Artist 22 Plus to creatives across the globe, a large canvas drawing display boastingtheindustry-leading16K pen pressure technology, which delivers an unparalleled premium digital art experience. However, costshould notstand in the way of creativity.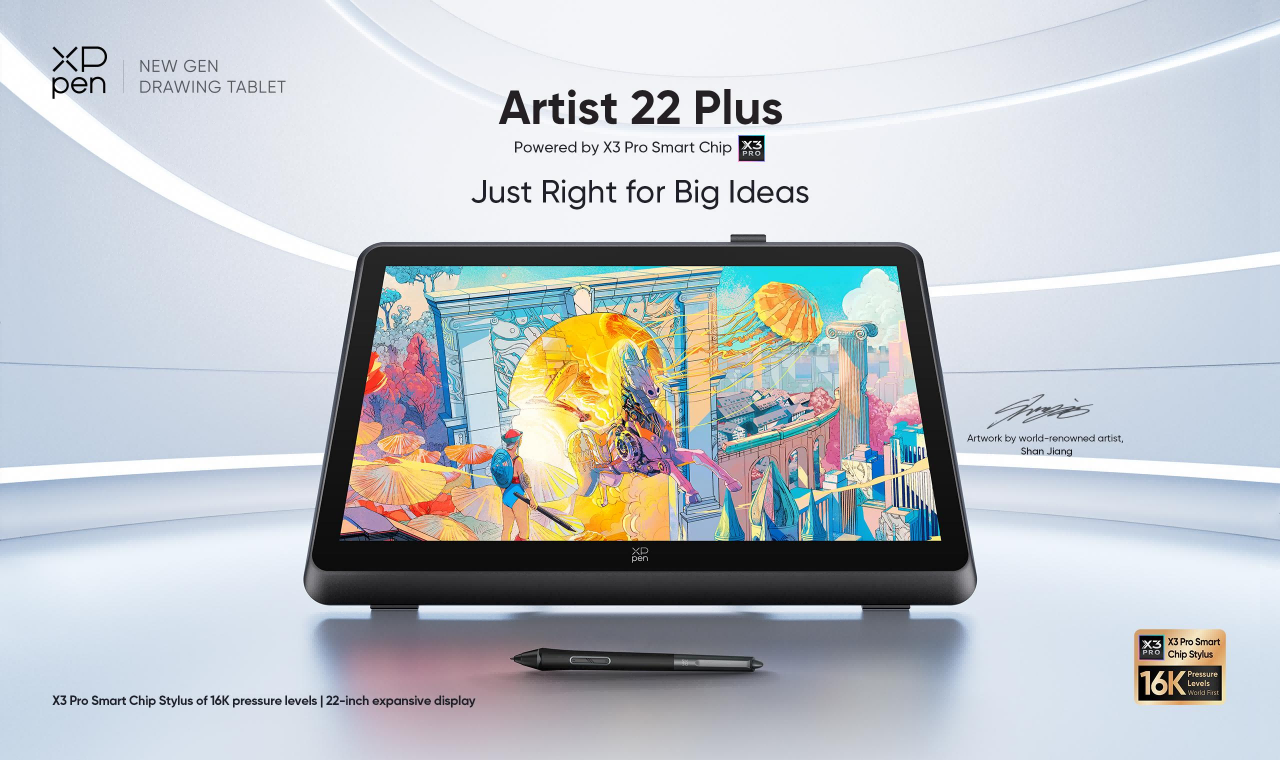 The globally renowned digital art brand, XPPen, today launched its newest offering to the global creative community, the XPPen Artist 22 Plus large canvas digital drawing display. As the inaugural release of the all-new Artist Plus series, this product not only establishes a new benchmark set by XPPen for prosumer creative tools but also stands as the industry's first 21.5 inch drawing display equipped with the X3 Pro chip and 16K pen pressure sensitivity. Moreover, it is XPPen's first non-Pro level product to adopt the cutting-edge X3 Pro chip technology. Additionally, the launch is accompanied by the next-gen X3 Pro Roller Stylus, reflecting XPPen's forward-thinking positioning for the industry's future evolution and showcasing the brand's strategic vision for innovation and technological integration. In line with XPPen's user-centric philosophy, the Artist 22 Plus eschews conventional ID design norms and builds upon the aesthetic design concept used in the critically acclaimed predecessor, the Artist Pro (Gen 2) series. While adhering to aesthetics, it also conforms to ergonomic design, providing creators with a sustained and comfortable creative journey. This ensures every interaction with the device enjoyable and intuitive.
"At XPPen, we're acutely aware of the boundless possibilities of creativity and recognize that technology plays an important role in realizing these visions. That's why we introduce the Artist 22 Plus, unlocking deeper potential of the 16K pen pressure sensitivity through a 21.5 inch display. A larger screen not only means a bigger canvas for creation but also heralds the birth of more intricate and grander artistic pieces. Without a doubt, this product is the ideal choice for digital drawing, illustration, animation, VFX, and design," said Kevin Li, head of Product at XPPen. "Our deliberate approach to pricing aims to ensure that every individual brimming with creativity can effortlessly enjoy the advantages and pleasures brought about by cutting-edge technology."
Highlights of XPPen Artist 22 Plus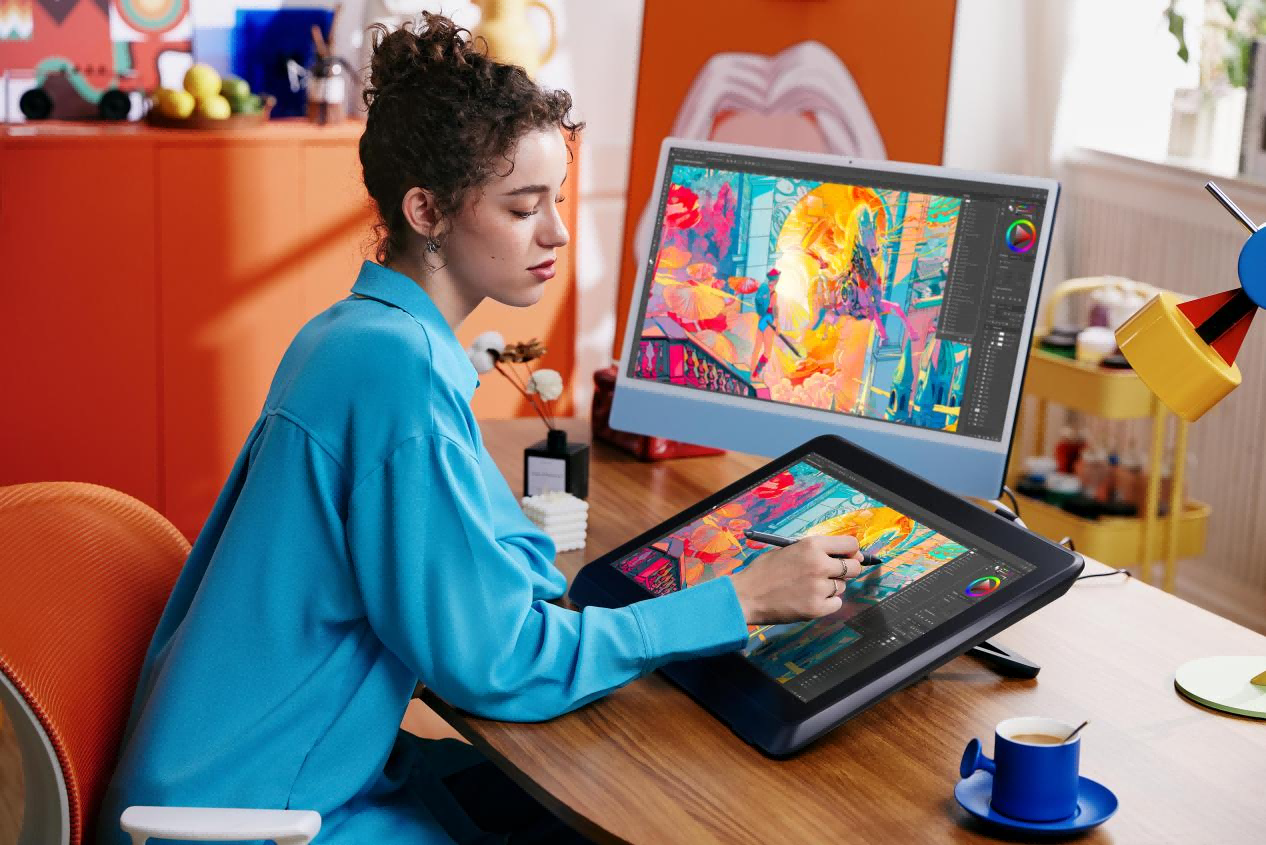 The XPPen Artist 22 Plus comes with industry-first 16K pen pressure sensitivity, empowered by the latest generation X3 Pro chip, offering an unprecedented digital drawing experience for diverse creative users. Such groundbreaking technology ensures each stroke is rendered with a delicate, smooth, and precise feel, capturing unmatched realism and accuracy. The 21.5-inch full display boasts a 130% sRGB native color space, 8-bit color depth, and a pallet of 16.7 million colors, allowing users to toggle between three color spaces: sRGB, Adobe RGB, and DCI-P3. This ensures vivid color accuracy and true-to-life representation, accommodating the increasing color critiques from evolving digital artists as technology advances. For enhanced user comfort, the X-Inspo Wrist Rest has been ergonomically designed to alleviate wrist strain during extended creative sessions. In addition, the comprehensive Type-C and HDMI connection methods not only support direct connection with a single cable, freeing the workspace from cluttered cables, but also offer versatility for other connection preferences. Maintaining XPPen's consistent high compatibility, the Artist 22 Plus supports Windows 7 (or higher versions), macOS 10.10 (or higher versions), Android (USB3.1 DP1.2), Chrome OS 88 (or higher versions), and Linux.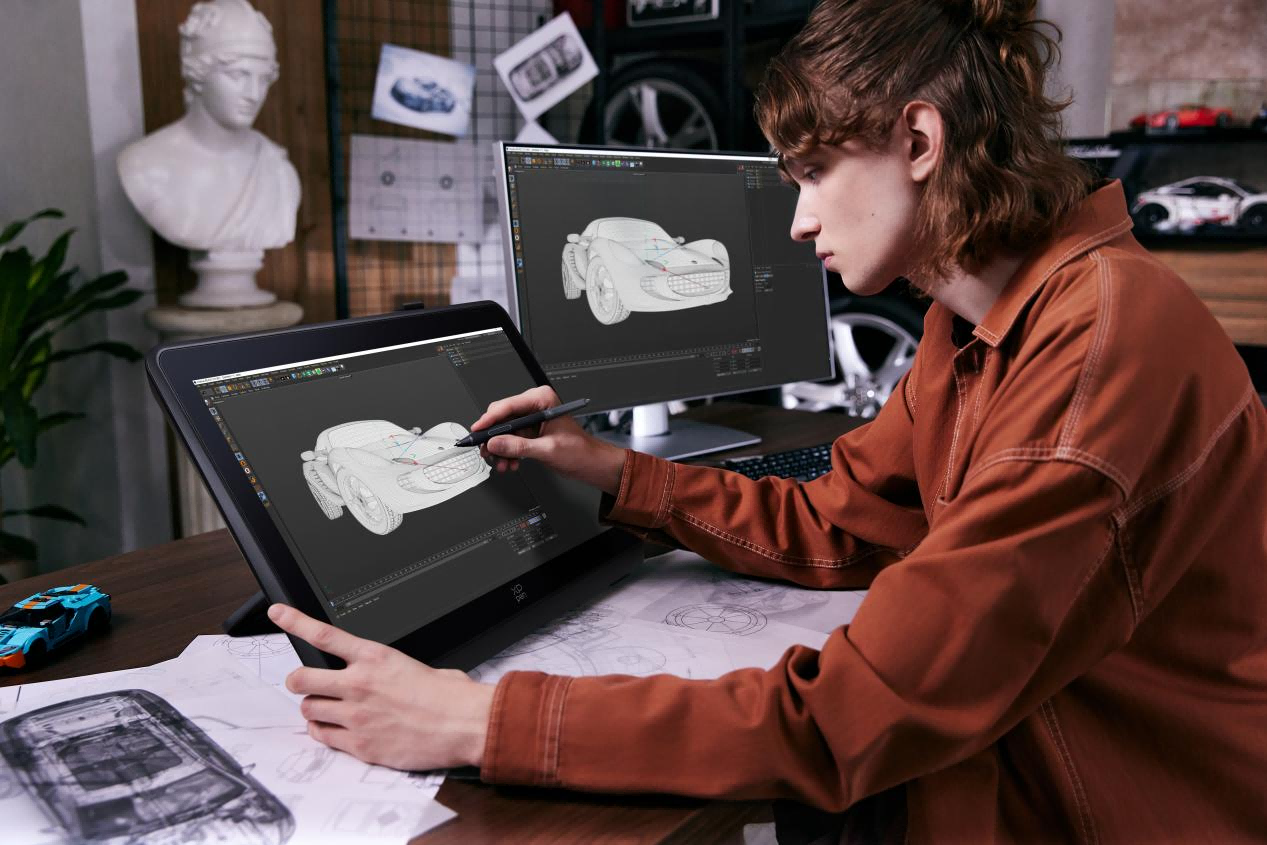 To further cater to the varied preferences of creators, the Artist 22 Plus is VESA mount-compatible, allowing for more flexible working and viewing angles. Taking a pioneering step in the industry, this device thoughtfully incorporates a 3.5mm headphone jack, enabling creators to delve into the realms of music or films as they work, ushering in an immersive audio-visual creative experience.
BoundlessCreative Possibilities:Next-GenX3 ProRoller Stylus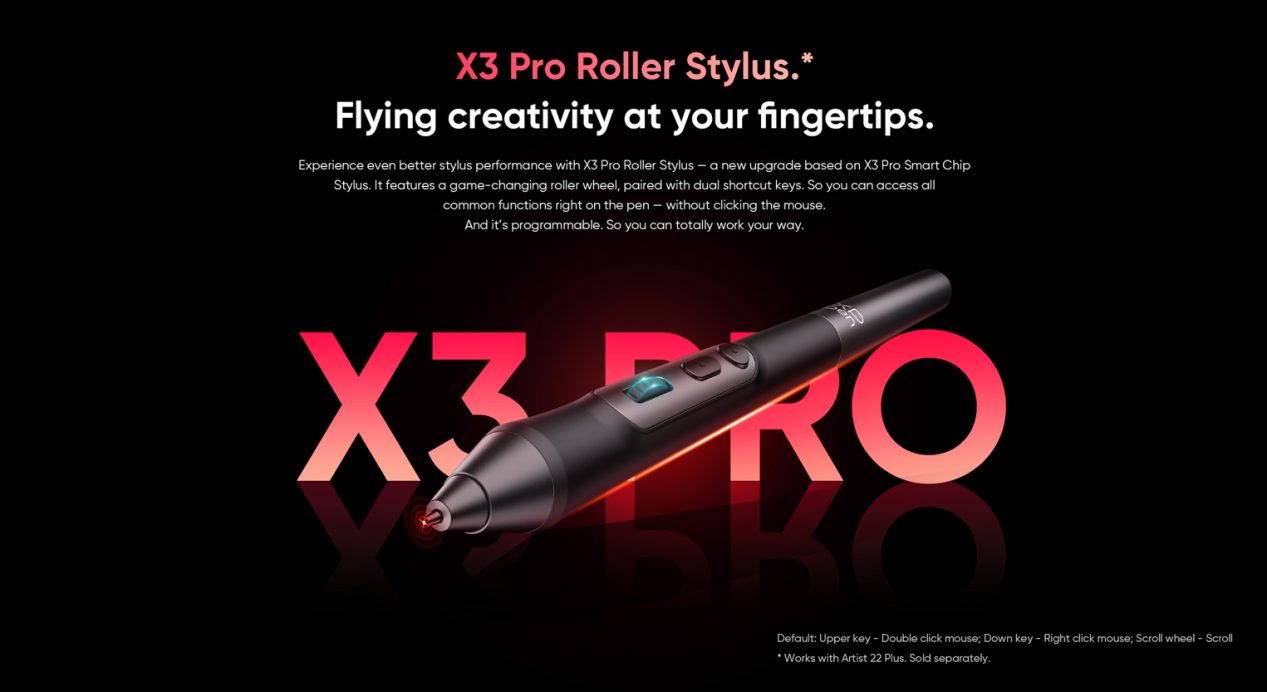 On the same day, XPPen also introduced the next-gen X3 Pro Roller Stylus, offering it as an add-on purchase option. The built-in scroll wheel in the stylus is an industry-first, and can be customized based on user preferences for functions such as zooming in/out (on the pen tip/canvas), rotating, and even flipping models in 3D creation, among other features. Empowered by the XPPen's latest X3 Pro chip and exceptional 16,384 pen pressure technology, it allows you to effortlessly master advanced creations at your fingertips, enjoying precise and free control in every creative moment.
Pricing and Availability
XPPen Artist 22 Plus is priced at $459 and will be available on November 6th on the XPPen Official Store.
About XPPen
Originated from 2005, XPPen is now one of the top brands under HANVON UGEE, integrated with digital drawing products, content and service as a globally notable digital brand of digital art innovation. Headquartered in Shenzhen, China, XPPen boasts 6 overseas subsidiaries(branches) and more than 50 agents, covering over 130 countries and regions with its products. By virtue of its progressive digital handwriting technology after more than 10 years'accumulation and innovation, XPPen believes that, innovative, trendy and leading products and ecosystem can bring more abundant visionary inspiration to the new generation artists and enthusiasts, encouraging them to courageously pursue dreams and realize their authentic self-expression.
HDMI is a registered trademark of HDMI Licensing Administrator, Inc.
USB-C® is a registered trademark of USB Implementers Forum.
Mac is a registered trademark of Apple Inc.
Adobe and Adobe RGB are either registered trademarks or trademarks of Adobe in the United States and/or other countries.
Other names may be trademarks or registered trademarks of their respective owners.
To learn more, please visitwww.xp-pen.com

Source link
The content is by Globe Newswire. Headlines of Today Media is not responsible for the content provided or any links related to this content. Headlines of Today Media is not responsible for the correctness, topicality or the quality of the content.
Subscribe us on