Shenzhen, China, Nov. 02, 2023 (GLOBE NEWSWIRE) — On November 1, 2023, XPPenlaunched its special co-branded edition of Artist 12/16 (2nd Gen) Drawing Display withLe Petit Prince. Limited to 5,000 sets, this co-branded product is equipped with a 127% sRGB high color gamut screen and X3 Elite Plus smart chip stylus, as well as a customized gift pack including a protective bag and stickers, drawing gloves, etc., which will be a surprise dedication to XPPen users and fans ofLe Petit Prince.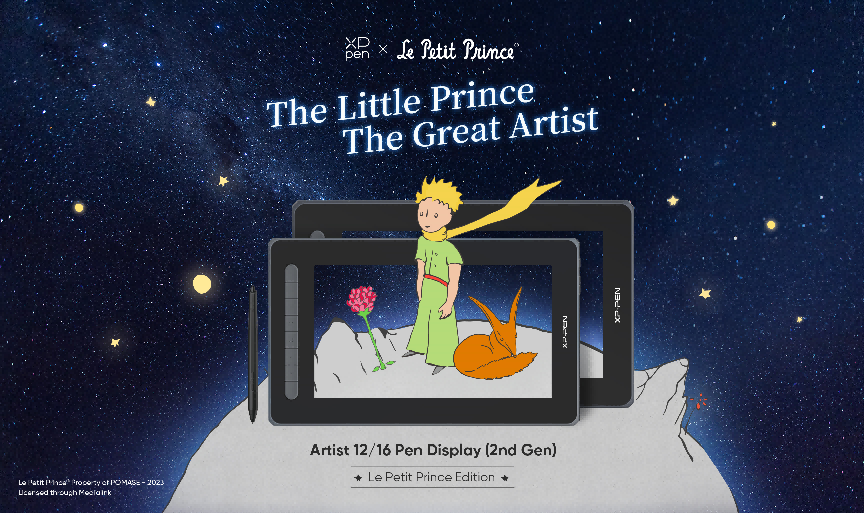 Le Petit Prince, as a world-renowned literature, awakens people's inner purity and deepens people's thinking about growth, true love, friendship, and humanity. This cooperation is based on the resonance and common pursuit of many values between XPPen andLe Petit Prince.
"The act of creation itself is a pursuit of pure romantic expression, and purity, the true self, is one of the highest forms of narrative," says Amy Yuan, the Marketing Director of XPPen. XPPen's understanding of perceiving the true self aligns perfectly with the spirit of the classic literatureLe Petit Prince. AsLe Petit Princesays, "It is only with the heart that one can see rightly; what is essential is invisible to the eye." Through this collaboration, XPPen hopes to awaken people's awareness of their inner feelings and emotions and ignite their love and pursuit of beauty and creativity.
A Collection of Customization Designed to Awaken Creativity
As a commemorative edition, the co-branded Artist 12/16 Drawing Display (2nd Gen) is available in 11.9 inches and 15.4 inches for easy portability. The theme design incorporatesLe Petit Princeco-branded customized opening interface, which provides gorgeous inspiration from the moment you light up the screen and embark on a creative journey hand in hand withLe PetitPrince.
To better incorporate the elements ofLe Petit Princeinto the Artist drawing display, XPPen has also upgraded the gift package with a customizedLe Petit Prince-style protective bag, mouse pad, stickers and drawing gloves, etc. to provide a unique creative experience for the fans ofLe Petit Prince.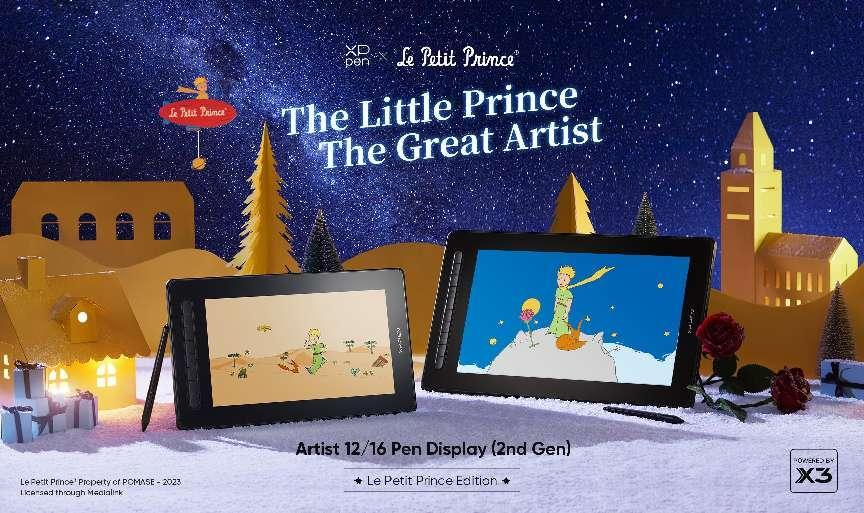 As a perfect combination of classic literature and digital painting technology, it allows everyone to experience the purity and beauty represented byLe Petit Princeand also inspires and encourages every XPPen user to experience the creativity and innovation that XPPen products empower. XPPen believes that this collaboration will bring users a unique and meaningful artistic experience.
Superior Equipment Speaks High-Performance
When it comes to the product features carried by the co-branded product, it has a professional EMR drawing display as standard with a 127% sRGB wide color gamut, which makes every stroke of creative inspiration come to life.
Equipped with the X3 Elite Plus smart chip stylus, which improves the device's responsiveness and real-time performance, providing artists with a more precise, stable, and efficient drawing experience. In addition, the stylus is also equipped with an eraser function, reproducing the tactile sensation inherent to traditional pen and paper creation.
In line with the delicate and warm story image, the key features and technology possessed by the Artist product enable users to express their artistic works in a more refined manner.
With the seamless combination of high-performance smooth output and versatile controls, users can transform their creativity into emotionally rich and detailed artworks, which also convey the warmth and contemplation represented byLe Petit Prince.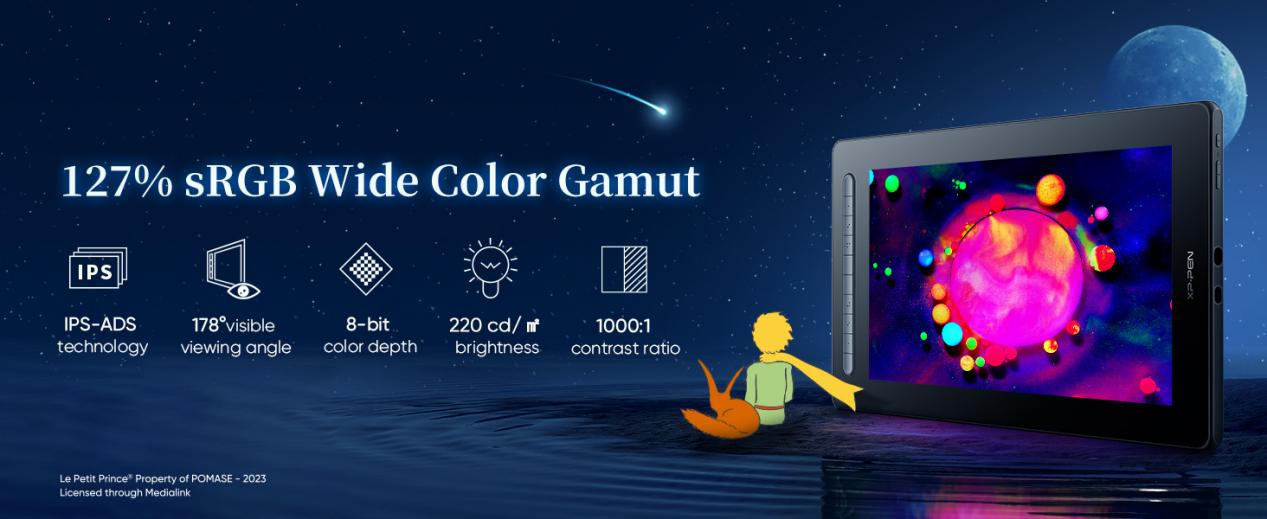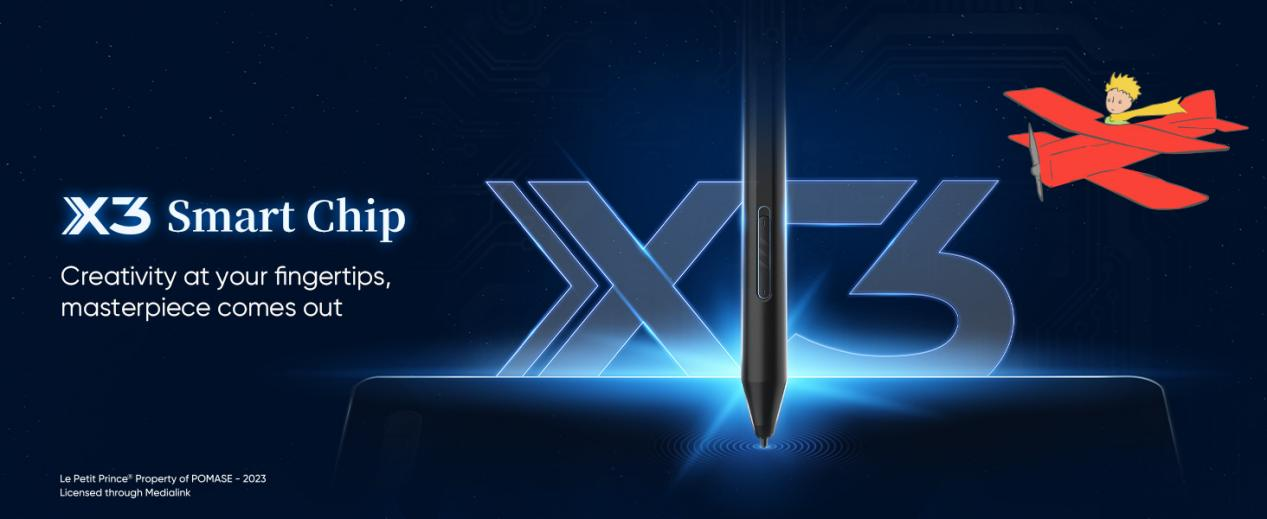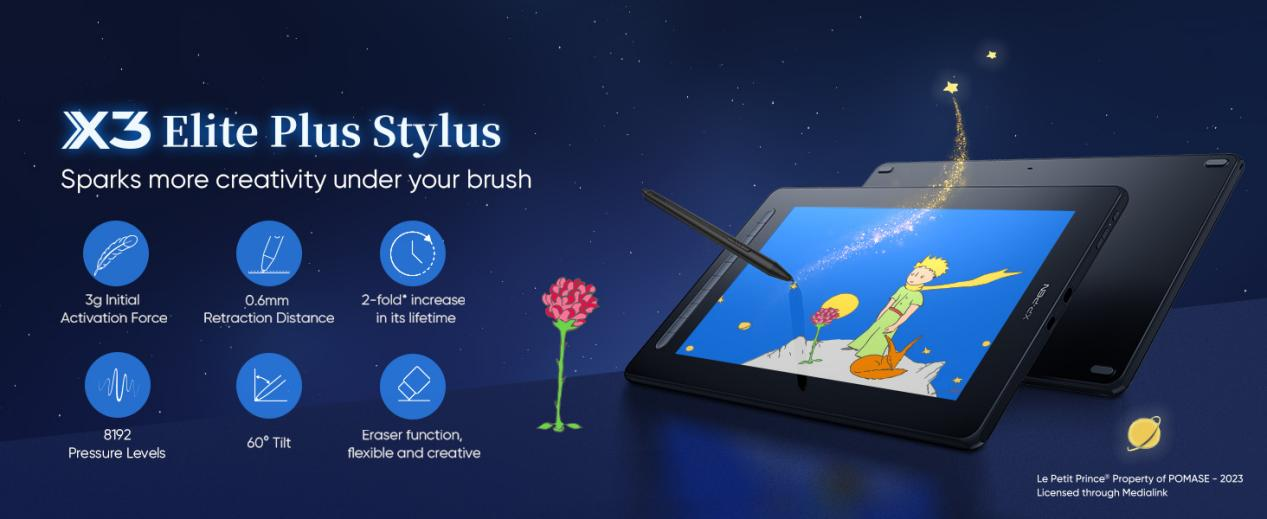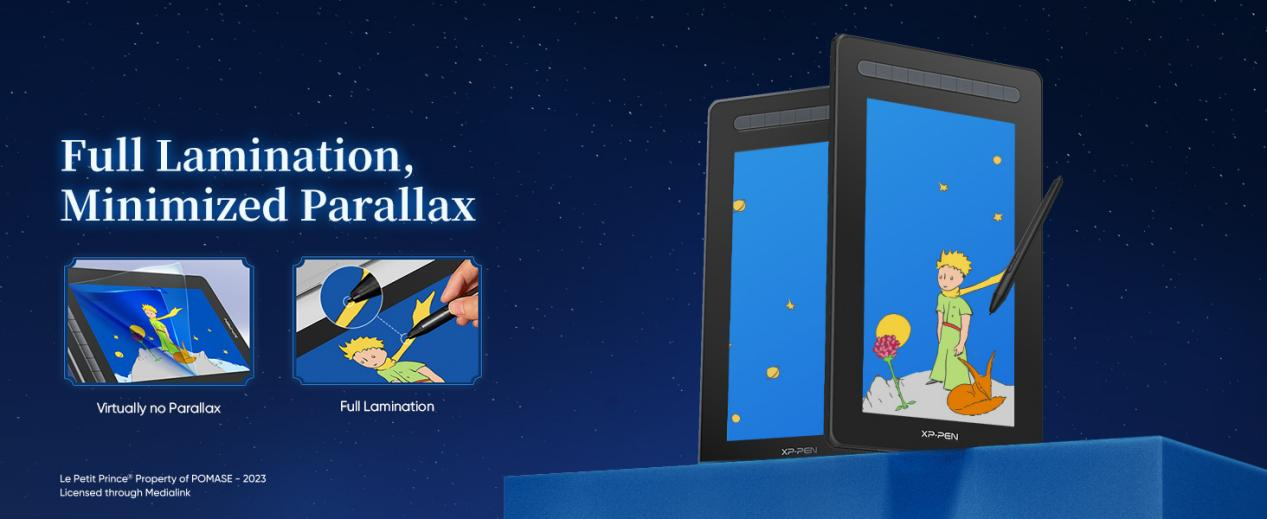 Get Readyforthe Unique Experience
In this cooperation, XPPen has globally released 2,500 sets each of Artist 12 (2nd Gen) and Artist 16 (2nd Gen)Le Petit PrinceLimited Edition, priced at $239.99 and $369.99 respectively. They are now available for purchase on the XPPen online store at
https://www.xp-pen.com/product/artist-12-16-little-prince-edition.html
Join XPPen andLe Petit Princeon a romantic journey of discovery, to awaken the purest creative passion from the bottom of your heart.
About Le Petit Prince
Le Petit Prince is a beloved tale that both children and adults can enjoy. After being stranded in a desert after a crash, a pilot comes in contact with The Little Prince who recounts his journey from planet to planet in his search for what is most important in life. Published in 1943 and written by Antoine de Saint Exupéry, the book has sold over 200 million copies worldwide and over 500 official translations. This year marks the 80thanniversary of the first publication of Le Petit Prince in New York.
About XPPen
Originated from 2005, XPPen is now one of the top brands under HANVON UGEE, integrated with digital drawing products, content and service as a globally notable digital brand of digital art innovation. Headquartered in Shenzhen, China, XPPen boasts 6 overseas subsidiaries (branches) and more than 50 agents, covering over 130 countries and regions with its products. By virtue of its progressive digital handwriting technology after more than 10 years' accumulation and innovation, XPPen believes that, innovative, trendy and leading products and ecosystem can bring more abundant visionary inspiration to the new generation artists and enthusiasts, encouraging them to courageously pursue dreams and realize their authentic self-expression.
To learn more, please visithttps://www.xp-pen.com/
About Medialink
Medialink Group Limited (Stock Code: 2230.HK) is a leading intellectual property (IP) management company headquartered in Hong Kong, with business in China, Japan and Southeast Asia, actively promoting cultural exchanges through its IP, bring high-quality entertainment to the whole of Asia.
Founded in 1994, its business mainly focuses on content distribution and brand licensing, and is also involved in content production, distribution arrangements and animation product development. The Group invests and cooperates closely with media content licensors to distribute media content related to animation, variety shows, TV dramas, animated and live-action movies. At the same time, it also obtains copyright licensing from various brand licensors in the Asia-Pacific region, including merchandising rights and location-based entertainment rights and promotion rights.
The Group has its own animation platform Ani-One® Asia – its YouTube® channel has more than 3.48 million subscribers and more than 688 million views; in addition, the group also has its own e-commerce platform Ani-Mall®, selling animation products and exclusive anime boutique.
Medialink:https://www.medialink.com.hk/
Medialink on Facebook:https://www.facebook.com/medialinkhongkong
Medialink on Instagram:https://www.instagram.com/medialinkhk/?hl=zh-hk

The content is by Globe Newswire. Headlines of Today Media is not responsible for the content provided or any links related to this content. Headlines of Today Media is not responsible for the correctness, topicality or the quality of the content.
Subscribe us on