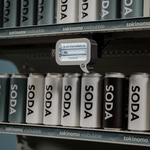 Elevating Point-of-Sale Marketing: Tokinomo's Visibubble Merges Innovation and Interaction to Transform Retail POSM Displays for in-store Brand Activations
BUCHAREST, Romania–(BUSINESS WIRE)–#Marketing–Tokinomo, a leading startup in interactive shelf activations, proudly introduces Visibubble — a cost-effective point-of-sale marketing (POSM) solution. The new in-store advertising solution brings Mobile Messaging to the shelf, increasing shopper engagement. Products and brands can now communicate via text messages with the shoppers directly on their phones.
To integrate Visibubble into upcoming brand activation campaigns, inquiries can be directed to Tokinomo here.
Visibubble's Transformative Features:
Dynamic Customization: Display branding with adaptable messages and colors. With magnetic covers, changing the messages is a breeze — catering to diverse campaigns and products.
QR Code Interaction: Pilot implementations revealed that with Visibubble, the QR codes were scanned 17 times more than in the case of a static QR code. When the Shoppers scan the QR code, they enter a dedicated landing page for the campaign, where the brand starts a conversation with the shoppers, enhancing the brand-customer connection at the purchase point.
Shopper Detection Sensor: Activating on shopper proximity ensures advertisements are more interactive and eye-catching, reaching the customers as they shop.
Engaging Notification Sounds: Crafted to captivate, these sounds mirror mobile app notifications, amplifying product prominence.
Battery-Powered Versatility: Unrestricted by cords, Visibubble can grace any store location, with unparalleled flexibility in any environment.
Ionut Vlad, Tokinomo's CEO, shared his enthusiasm, "Visibubble isn't just a product; it's a vision of reimagined in-store marketing. It symbolizes Tokinomo's commitment to cutting-edge, cost-effective solutions that genuinely resonate with shoppers. As we venture into this new chapter, we're eager to witness the transformative effects Visibubble will usher in for our partners and their customers."
About Tokinomo
Renowned globally as an avant-garde force in interactive shelf activations, Tokinomo's in-store marketing solutions employ a blend of sensor technology, sound, light and motion. This results in brand activations that not only captivate shoppers but consistently boost sales, as evidenced by a staggering +200% average sales lift and tens of international awards won with its retail campaigns.
For an in-depth exploration of Visibubble and of the innovations Tokinomo brings to in-store advertising and shopper marketing, visit: Tokinomo's Visibubble
Contacts
Elena Filip

elena.filip@tokinomo.com
The content is by Business Wire. Headlines of Today Media is not responsible for the content provided or any links related to this content. Headlines of Today Media is not responsible for the correctness, topicality or the quality of the content.
Subscribe us on