DALLAS, Texas, Nov. 14, 2023 (SEND2PRESS NEWSWIRE) — Stack Sports, a leading global provider of sports technology, is thrilled to announce its new exclusive partnership with Iowa Soccer. The partnership, spanning three years, will see Sports Connect, Stack Sports' innovative platform, serving as the official online registration provider of Iowa Soccer, reinforcing Stack Sports' commitment to empowering youth sports organizations with state-of-the-art technology solutions.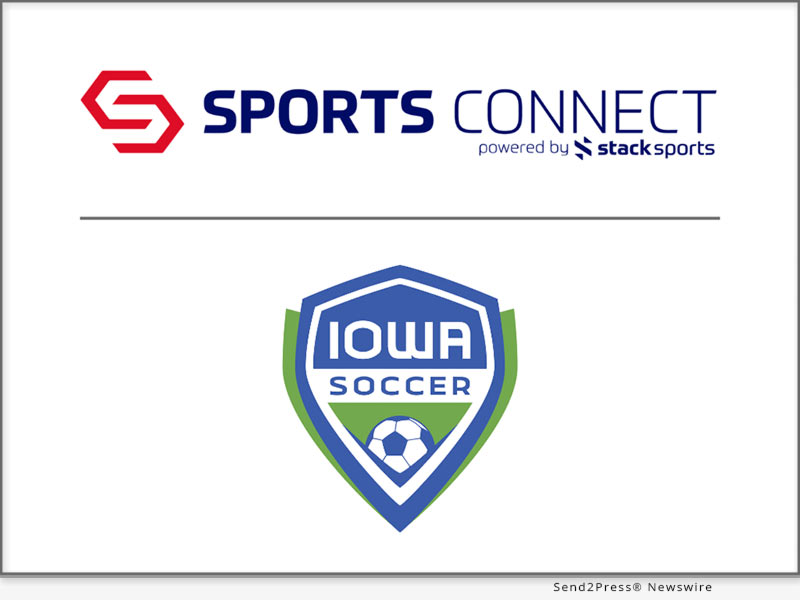 Image Caption: Sports Connect and Iowa Soccer.
Iowa Soccer, the leader in the world of youth soccer in Iowa, has chosen Sports Connect to streamline its registration and club management processes. This strategic partnership aims to simplify the experience for volunteers, administrators, coaches, and parents involved in soccer programs across the state.
"We are thrilled to partner with Stack Sports and their Sports Connect platform," stated Dan Cataldi, CEO of Iowa Soccer. "Our team at Iowa Soccer works tirelessly to provide the best possible resources and support for our clubs, coaches, players, and families. Sports Connect and the team at Stack Sports provide that with both the technology and the people behind it. Additionally, with Sports Connect, we have found a partner that shares our commitment to making soccer accessible and enjoyable for everyone in Iowa. This collaboration is a significant step toward enhancing the efficiency and quality of soccer programs across the state."
Member clubs affiliated with Iowa Soccer will benefit from a comprehensive suite of features offered by Sports Connect, including Mobile-First Registration, seamless data integration with the State, secure online payment processing, and more.
Adam Abney, General Manager of Sports Connect, expressed his enthusiasm for the new partnership, saying, "Iowa Soccer's dedication to promoting youth soccer aligns perfectly with our mission of increasing participation and transforming the sports experience. We look forward to leveraging our expertise to support Iowa Soccer and its member clubs in achieving their goals for many seasons to come."
With this partnership, Sports Connect extends its reach as the official registration and technology provider for Iowa Soccer's affiliated soccer clubs and leagues. Iowa Soccer joins a growing list of organizations benefiting from Sports Connect's technology solutions, which aim to increase sports participation and transform the overall sports experience.
For more information about Sports Connect and its features for Iowa Soccer, please visit https://sportsconnect.com/iowa-soccer/.
About Iowa Soccer:
Iowa Soccer provides an infrastructure to ensure a safe experience while helping those who love the game develop and connect with others. Iowa Soccer's mission is to further grow and promote the sport of soccer through organization, training, and education. Between competitive and recreational organizations, Iowa Soccer provides the necessary tools to equip its' member clubs for success season after season.
About Stack Sports:
With nearly 50 million users in 35 countries, Stack Sports is a global technology leader in SaaS platform offerings for the sports industry. The company provides world-class software and services to support national governing bodies, youth sports associations, leagues, clubs, parents, coaches, and athletes. Some of the largest and most prominent sports organizations including the U.S. Soccer Federation, Little League Baseball and Softball, and Pop Warner Little Scholars rely on Stack Sports technology to run and manage their organizations.
Stack Sports is headquartered in Dallas and is leading the industry one team at a time focusing on four key pillars — Grassroots Engagement, Participation Growth, Recruiting Pathways, and Elite Player Development.
To learn more about how Stack Sports is transforming the sports experience, please visit https://stacksports.com/.
News Source: Stack Sports
Source link
Subscribe us on