GARNAVILLO, Iowa, March 23, 2023 (SEND2PRESS NEWSWIRE) — Pattison Company, a legacy Northeast Iowa Company manufacturing quality proppants and aggregates for the gas, oil, and construction industries, recently launched a revolutionary railcar storage system. Pattison Storage Solution is putting railcar storage costs back on track, said a Pattison Company spokesperson.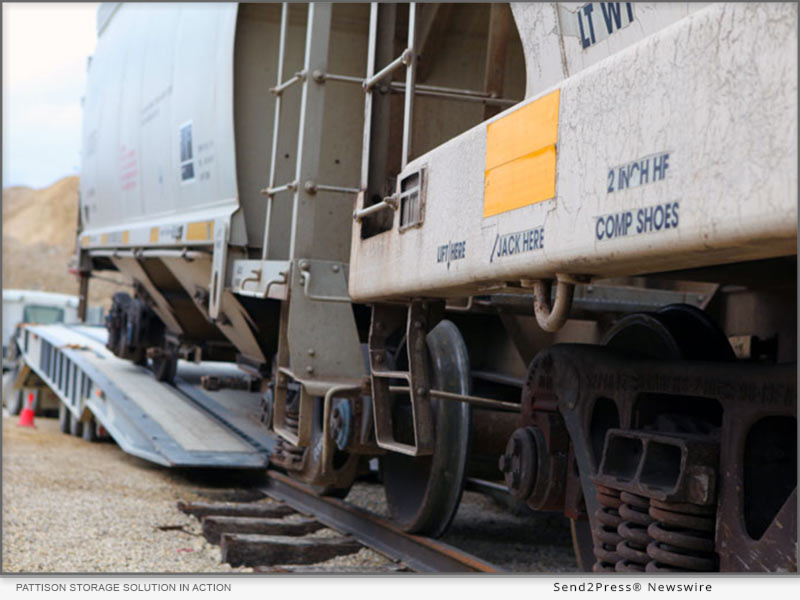 Image Caption: The Pattison Storage Solution in action.
Storing empty railcars has plagued rail users since the onset of the railroad industry. The surge of too many railcars sitting idle incurring high demurrage fees or increased business demands with too few railcars accessible. Pattison Storage Solutions provides cost-effective onsite or offsite storage of empty non-hazardous commodity railcars.
PSS is an innovation of Pattison Company in Clayton, Iowa, and provides railcar storage solutions direct to the users. This new onsite railcar storage concept can bring the storage site near the loading point where railcars provide the most value. PSS can efficiently design, build, and transport to custom storage sites, whether onsite or offsite.
Cost-effective and compact storage is an option that PSS makes possible for rail users. With as little as 4 acres, PSS can establish nearly 250 ready-to-use railcar storage points in just a few weeks. And the best part, no locomotive is required. The compact rail design or "skeleton tracks" PSS uses for more storage create a much smaller environmental footprint.
After a team of PSS professionals lay the storage track, they safely load empty railcars onto a specially designed semi-trailer. Once the railcar is secure, the semi-tractor transports the car to the storage site. The speed of the railcar transport process to and from storage, whether onsite or offsite, saves time and money. Depending on location and timing, the move into or out of storage can happen in less than 10 minutes per railcar.
Not only does PSS design the storage site by laying compact tracks and transporting the empty cars to the site, but they also provide railcar switching requirements. Scheduled switches can occur weekly or as needed instead of the undetermined periods when railcars are out of service, moving to a distant storage site, incurring high empty freight costs, and unavailable for immediate business needs.
In review, PSS is a full-service rail storage solution provider. From their compact rail track design and transportation of empty cars quickly and efficiently to providing scheduled railcar switches, PSS is meeting the storage needs of the rail industry.
To learn more about a custom railcar storage design, check out the Pattison Storage Solution website at: https://www.pattisonsand.com/railcar-storage-solutions/
Based in Garnavillo, Iowa, located in the Northeast Corner of Iowa, Pattison Sand Company has provided the highest quality proppants and aggregates to the oil, gas, and construction industry for decades. Pattison Company provides the highest quality quartz silica sand and dolomitic limestone to companies across the United State via railcars.
IMAGE: https://www.pattisonsand.com/wp-content/uploads/2023/03/StorageRelease.jpg
Image caption: The Pattison Storage Solution in action.
News Source: Pattison Company