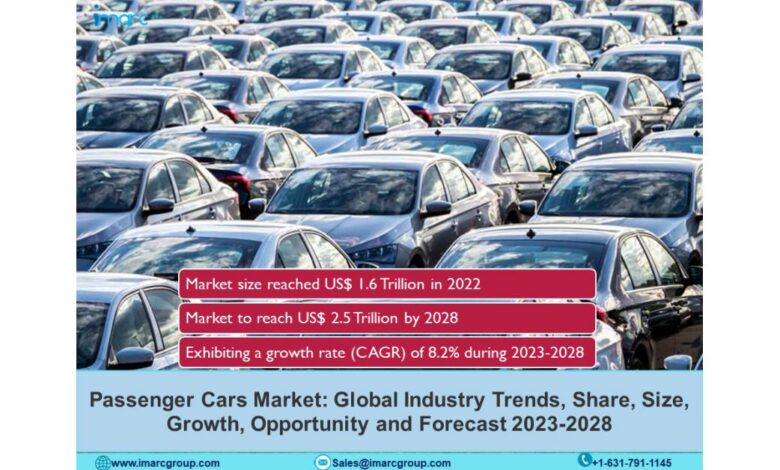 The report has segmented the global passenger cars market based on type, fuel type, engine capacity and propulsion type.
BROOKLYN, NY, USA, October 24, 2023 /EINPresswire.com/ — IMARC Group has recently released a new research study titled "Passenger Cars Market: Global Industry Trends, Share, Size, Growth, Opportunity and Forecast 2023-2028", offers a detailed analysis of the market drivers, segmentation, growth opportunities, trends and competitive landscape to understand the current and future market scenarios.
How big is the passenger cars market?
The global passenger cars market size reached US$ 1.6 Trillion in 2022. Looking forward, IMARC Group expects the market to reach US$ 2.5 Trillion by 2028, exhibiting a growth rate (CAGR) of 8.2% during 2023-2028.
Passenger cars are vehicles specifically designed for personal transportation and are engineered to accommodate a limited number of passengers, usually up to seven or eight. Unlike commercial vehicles, which are tailored for goods transportation, or specialty vehicles like ambulances, the primary function of a passenger car is to provide safe and efficient travel for individuals and families. These cars come in various forms, including sedans, hatchbacks, SUVs, and minivans, each catering to different consumer needs and preferences.
Passenger cars offer unparalleled convenience and mobility, allowing individuals to travel on their own schedules without relying on public transport timetables. They provide the freedom to access locations not easily reachable by other means, making them highly versatile. These vehicles also offer a level of privacy and personal space not found in public transportation. Safety is another advantage; users have control over their environment, reducing risks associated with crowded public spaces.
Additionally, cars are family-friendly, offering comfort and ease when traveling with children or elderly family members. The availability of storage space for luggage or shopping further adds to their utility and appeal.
Request to Get the Sample Report: https://www.imarcgroup.com/passenger-cars-market/requestsample
Passenger Cars Market Trends, Growth Drivers and Demand:
Significant technological advancements represents one of the key factors driving the growth of the passenger cars market across the globe. Innovations in automotive technology, such as electric and hybrid engines, autonomous driving features, and advanced safety mechanisms, are attracting consumer interest. The overall economic health of a region significantly impacts consumer purchasing power and confidence, which is affecting the demand for passenger cars.
Lifestyle choices, family size, and specific needs like off-road driving or city commuting play a critical role in the type of passenger cars that consumers prefer. The market is also driven by the increasing awareness about environmental sustainability which is influencing the demand for eco-friendly vehicles like electric and hybrid cars. Policies related to emission standards, fuel efficiency, and road safety directly influence the design and production of passenger cars, which act as either growth catalysts or restraints. Well-developed transport infrastructure, including roads and charging stations, is significantly impacting the market, especially for electric vehicles.
As international brands enter new markets, they bring along a variety of models catering to local preferences, which is expanding the consumer base. The easy availability of credit and attractive financing options make it more feasible for a broader range of consumers to purchase cars, which is boosting the market. Rapid urbanization leads to an increase in the middle-class population, which is contributing to higher demand for passenger vehicles.
Cultural factors, such as the status associated with car ownership, also drive market growth, especially in emerging economies. Aggressive marketing strategies, including discounts and promotional offers, by manufacturers fuel market competition and stimulate growth.
Apart from this, efficient supply chain management ensures timely delivery of vehicles and spare parts, which is affecting consumer satisfaction, thus creating a positive outlook for the market across the globe.
Passenger Cars Market Competitive Analysis and Segmentation:
The competitive landscape of the passenger cars market has been studied in the report with the detailed profiles of the key players operating in the market.
Passenger Cars Key Companies:
• Bayerische Motoren Werke AG,
• Ford Motor Company
• General Motors Company
• Groupe Renault
• Honda Motor Co. Ltd.
• Hyundai Motor Company
• Mercedes-Benz Group AG
• Tata Motors Limited
• Tesla Inc.
• Toyota Motor Corporation
• Volkswagen AG.
Key Market Segmentation:
The report has segmented the passenger cars market on the basis of type, fuel type, engine capacity, propulsion type, and region.
Breakup by Type:
• Hatchback
• Sedan
• Utility Vehicle
Breakup by Fuel Type:
• Gasoline
• Diesel
• Others
Breakup by Engine Capacity:
• < 1000 cc
• < 1000-1500 cc
• < 1500-2000 cc
• >2000 cc
Breakup by Propulsion Type:
• IC Engine
• Electric Vehicle
Breakup by Region:
• North America
• Asia Pacific
• Europe
• Latin America
• Middle East and Africa
Speak to Analyst: https://www.imarcgroup.com/request?type=report&id=6164&flag=C
Key Highlights of the Report:
• Market Performance (2017-2022)
• Market Outlook (2023-2028)
• Market Trends
• Market Drivers and Success Factors
• Impact of COVID-19
• Value Chain Analysis
• Comprehensive mapping of the competitive landscape
If you need specific information that is not currently within the scope of the report, we will provide it to you as a part of the customization.
Browse More Related Reports:
Used Car Industry in India: Latest Research Report
Vietnam Used Car Market Report 2024-2029
About US:
IMARC Group is a leading market research company that offers management strategy and market research worldwide. We partner with clients in all sectors and regions to identify their highest-value opportunities, address their most critical challenges, and transform their businesses.
Our offerings include comprehensive market intelligence in the form of research reports, production cost reports, feasibility studies, and consulting services. Our team, which includes experienced researchers and analysts from various industries, is dedicated to providing high-quality data and insights to our clientele, ranging from small and medium businesses to Fortune 1000 corporations.
IMARC's information products include major market, scientific, economic and technological developments for business leaders in pharmaceutical, industrial, and high technology organizations. Market forecasts and industry analysis for biotechnology, advanced materials, pharmaceuticals, food and beverage, travel and tourism, nanotechnology and novel processing methods are at the top of the company's expertise.
Elena Anderson
IMARC Services Private Limited
+1 631-791-1145
email us here
Source link
The content is by EIN Presswire. Headlines of Today Media is not responsible for the content provided or any links related to this content. Headlines of Today Media is not responsible for the correctness, topicality or the quality of the content.
Subscribe us on