ESCONDIDO, Calif., Nov. 13, 2023 (GLOBE NEWSWIRE) — One Stop Systems, Inc. (Nasdaq: OSS), a leader in rugged High Performance Compute (HPC) for Artificial Intelligence (AI), Machine Learning and sensor processing at the edge, will unveil today its latest AI Transportable, a Gen 5 short-depth server (SDS), at SC23, the international conference for high performance computing being held in Denver, Colorado on November 12-17, 2023.
Gen 5 Short-Depth Server (SDS)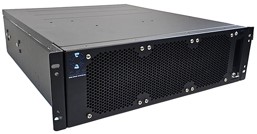 OSS new Gen 5 AI Transportable compute server doubles the performance over previous generation for powering the most demanding intelligent edge applications.
Powered by four PCIe NVIDIA H100 Tensor Core GPUs, the OSS Gen 5 SDS addresses the growing demand for more powerful AI Transportables at the edge. By incorporating the highest-performing GPUs, networking and NVMe solid-state storage devices, it delivers double the bandwidth as compared to its Gen 4 predecessors.
"This new OSS Gen 5 SDS server demonstrates our continued leadership in AI computing and high-speed PCIe interconnect technology," stated OSS president and CEO, Mike Knowles. "We anticipate this hyperconverged data center-class computing server will be highly sought after for demanding rugged edge, real-time AI applications."
OSS AI Transportables are differentiated from traditional edge AI infrastructure by having the highest-speed data center-class processing, input/output, networking and storage technologies. OSS AI Transportables meet stringent, mil-spec requirements for shock and vibration, redundancy, operating temperature, altitude and uninterrupted power.
The new Gen 5 SDS can be used in a wide range of edge applications, for sensor fusion, signal processing and data acquisition to autonomous trucks, submarines, aircraft, and mobile data centers.
Visitors to SC23 can see the new Gen 5 SDS and other AI Transportable solutions at booth #1825. These products can be ordered directly from OSS sales engineers at sales@onestopsystems.com.
About OSS Gen 5 SDS
For AI workflows at the edge, the Gen 5 SDS reaches new levels in GPU-accelerated compact edge computing systems, embodying performance without compromise where it counts.
The Gen 5 SDS is a hyperconverged data center class server that supports configurations of up to five of the world's most powerful GPUs, 16 of the fastest NVMe solid-state storage devices, and the lowest-latency, highest-bandwidth PCIe scale-out expansion systems. It also supports the highest-performance SAN and NAS storage software and extreme 400Gbps networking solutions.
The SDS platform brings the compute power of the data center to the rugged edge to perform many missions, including high-performance AI inference of up to 35 simultaneous AI workloads, high-speed transportable data recorder/logger with hot-swap drive packs with up to 1 petabyte capacity, or a rugged SAN or NAS data storage unit.
AI Transportable edge applications require cooling and power flexibility. The SDS platform's standard configurations include air cooling, self-contained liquid cooling or liquid-assisted external heat exchanger cooling. These configurations support systems operating in a wide range of temperature environments, from standard air-cooled racks to extreme environments, such as in vehicle trunks. Power options include vehicle-rated alternating current and direct current inputs for use on land, sea or in the air.
The Gen 5 SDS also includes proprietary Unified Baseboard Management Controller (U-BMC) software. OSS U-BMC software enables dynamic fan speed control as well as an Intelligent Platform Management Interface (IPMI) for system monitoring, all of which integrates seamlessly with the host server system management.
U-BMC manages, monitors and controls the telemetry of OSS products with advanced capabilities. This software securely enables OSS customers to unify their systems management and enjoy unique benefits when using several OSS products simultaneously, such as for data acquisition, data storage, AI acceleration and autonomous vehicle compute.
The rugged chassis design makes it suitable for use outside the data center environment. All together, these features make the Gen 5 SDS the ideal accelerator expansion platform for the entire AI workflow at the edge.
Additional features and options deliver superior performance without compromise:
Double the bandwidth of Gen 4 systems.
Supports the highest-performance GPUs, networking and NVMe solid-state storage available on the market today.
Fits most rugged 19″ rack installation, with room for cable management at the rear of the system.
Air- or liquid-cooled for wider applications in more environments.
About SC23
The annual SC conference is an international conference for high performance computing, networking, storage and analysis, and has grown steadily in size and impact over time, drawing more than 13,000 attendees over the last several years. SC is held in a different city in the United States each year. For more information, visit sc23.supercomputing.org
About One Stop Systems
One Stop Systems, Inc. (Nasdaq: OSS) is a leader in AI Transportable solutions for the demanding 'edge.' OSS designs and manufactures the highest performance compute and storage products that enable rugged AI, sensor fusion and autonomous capabilities without compromise. These hardware and software platforms bring the latest data center performance to the harsh and challenging applications, whether they are on land, sea or in the air.
OSS products include ruggedized servers, compute accelerators, flash storage arrays, and storage acceleration software. These specialized compact products are used across multiple industries and applications, including autonomous trucking and farming, as well as aircraft, drones, ships and vehicles within the defense industry.
OSS solutions address the entire AI workflow, from high-speed data acquisition to deep learning, training and large-scale inference, and have delivered many industry firsts for industrial OEM and government customers.
As the fastest growing segment of the multi-billion-dollar edge computing market, AI Transportables require—and OSS delivers—the highest level of performance in the most challenging environments without compromise.
OSS products are available directly or through global distributors. For more information, go to www.onestopsystems.com. You can also follow OSS on Twitter, YouTube, and LinkedIn.
Forward-Looking Statements
One Stop Systems cautions you that statements in this press release that are not a description of historical facts are forward-looking statements. These statements are based on the company's current beliefs and expectations. The inclusion of forward-looking statements should not be regarded as a representation by One Stop Systems or its partners that any of our plans or expectations will be achieved, including but not limited to, fitness of the Gen 5 SDS for a particular application, rack space, or vehicle; expected growth for edge solutions, including any particular segment thereof; future demand for the Gen 5 SDS; performance benchmarks achieved in any application and actual units to be demonstrated at the SC23 show. Actual results may differ from those set forth in this press release due to the risk and uncertainties inherent in our business, including risks described in our prior press releases and in our filings with the Securities and Exchange Commission (SEC), including under the heading "Risk Factors" in our latest Annual Report on Form 10-K and any subsequent filings with the SEC. You are cautioned not to place undue reliance on these forward-looking statements, which speak only as of the date hereof, and the company undertakes no obligation to revise or update this press release to reflect events or circumstances after the date hereof. All forward-looking statements are qualified in their entirety by this cautionary statement, which is made under the safe harbor provisions of the Private Securities Litigation Reform Act of 1995.
Media Contacts:
Katie Rivera
One Stop Systems, Inc.
Tel (760) 745-9883
Email contact
Tim Randall
CMA Media Relations
Tel (949) 432-7572
Email Contact
Investor Relations:
Ronald Both or Grant Stude
CMA Investor Relations
Tel (949) 432-7557
Email contact
A photo accompanying this announcement is available at https://www.globenewswire.com/NewsRoom/AttachmentNg/789c490a-2e67-4e5d-a3f4-7b1f337836df

Source link
The content is by Globe Newswire. Headlines of Today Media is not responsible for the content provided or any links related to this content. Headlines of Today Media is not responsible for the correctness, topicality or the quality of the content.
Subscribe us on