EAGAN, Minn. and PLANO, Texas, Sept. 14, 2023 (SEND2PRESS NEWSWIRE) — Stack Sports, the largest and fastest-growing global provider of sports technology, announced today that it has extended its partnership with The Minnesota Youth Soccer Association, Inc. (MYSA), which will leverage the Sports Connect platform for its state and member club management for another five-year span. As strategic partners, both organizations are committed to supporting the members of Minnesota Youth Soccer to make soccer easy for volunteers, administrators, coaches, and parents.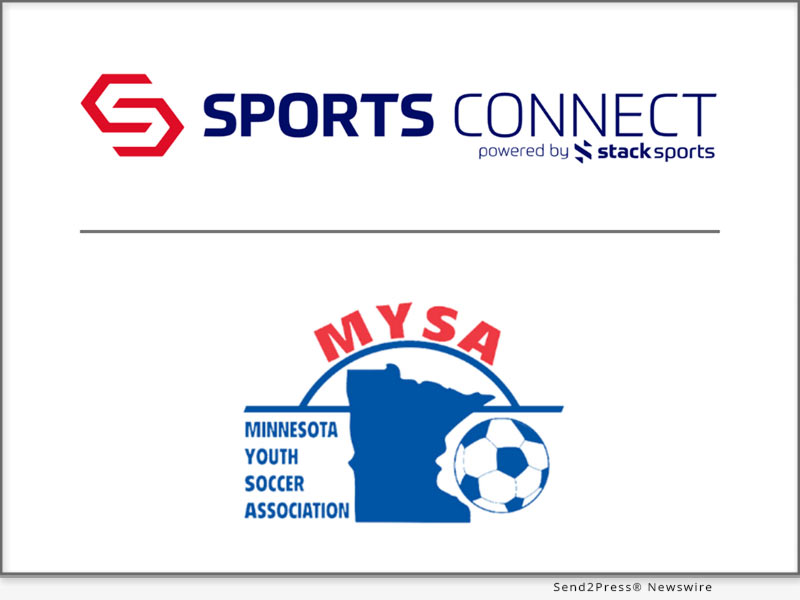 Image Caption: Minnesota Youth Soccer Association Renews Partnership with Sports Connect.
"We are honored to continue our partnership with Sports Connect. Our relationship has proven that Sports Connect is the best platform capable of servicing our members and providing industry-leading technology solutions to support volunteers, coaches, and administrators across the state," said Ayla Lokkesmoe, Chief Executive Officer of Minnesota Youth Soccer. "Several Minnesota Youth Soccer programs already trust Sports Connect with their club management needs, and we are confident that our continued partnership will guarantee clubs the most innovative solution on the market along with unmatched support for the volunteers and administrators that make each season possible."
Member clubs partnering with Sports Connect have access to a full suite of features, including Mobile-First Registration, a connected mobile app experience via Stack Team App, seamless data integration, exclusive website designs, secure online payment processing, and much more.
"Minnesota Youth Soccer has been a valued partner of Sports Connect and we are honored to extend our long-standing relationship," said Adam Abney, General Manager of Sports Connect. "At the forefront of Minnesota Youth Soccer's mission and core values has been their support and efforts of making soccer the preeminent sport for all children and creating a lifelong passion for the game. Our partnership perfectly aligns and prospers continued innovation and resources that will serve our shared mission of giving more young players the opportunity to play sports."
With the expansion of its partnership with Minnesota Youth Soccer, Sports Connect now functions as an official registration and technology provider for affiliated MYSA soccer clubs and leagues. With over 20 years of partner-first service, Sports Connect provides unprecedented scale and best-in-class technology with the goal of increasing sports participation and transforming the sports experience.
To learn more about Sports Connect features for Minnesota Youth Soccer, visit https://sportsconnect.com/minnesota-youth-soccer/.
About The Minnesota Youth Soccer Association:
For more than 50 years, MYSA has been helping member clubs provide a safe and meaningful soccer experience for Minnesota youth. They were founded in 1969 as the Minnesota Junior Soccer League and incorporated in 1987 as the Minnesota Youth Soccer Association. MYSA is a non-profit organization and a member of US Youth Soccer and U.S. Soccer. The governing body's mission is to be a partner, build a strong foundation, and unite the Minnesota soccer community.
About Stack Sports:
With nearly 50 million users in 35 countries, Stack Sports is a global technology leader in SaaS platform offerings for the sports industry. The company provides world-class software and services to support national governing bodies, youth sports associations, leagues, clubs, parents, coaches, and athletes. Some of the largest and most prominent sports organizations including the U.S. Soccer Federation, Little League Baseball and Softball, and Pop Warner Little Scholars rely on Stack Sports technology to run and manage their organizations.
Stack Sports is headquartered in Dallas and is leading the industry one team at a time focusing on four key pillars — Grassroots Engagement, Participation Growth, Recruiting Pathways, and Elite Player Development. To learn more about how Stack Sports is transforming the sports experience, please visit https://stacksports.com/.
News Source: Stack Sports
Source link
Subscribe us on