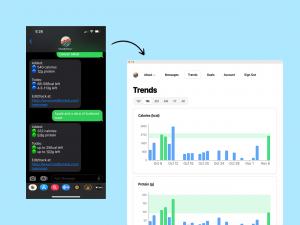 MealByMeal simplifies calorie and macros tracking through text messages, offering a convenient alternative to traditional apps.
SAN FRANCISCO, CALIFORNIA, UNITED STATES, November 6, 2023 /EINPresswire.com/ — MealByMeal, a unique calorie and macro tracking platform, announces its nutrition tracking service, offering an effortless and sustainable approach to managing dietary intake by leveraging the power of text messages and AI technology to provide users with a convenient and user-friendly solution to monitor their nutritional habits.
MealByMeal is all about simplicity. With MealByMeal, users can effortlessly monitor their calorie and macros intake by sending a simple text message without installing an app. There's no need to deal with endless food items and complex food entries. Just describe what you've eaten, and MealByMeal takes care of the rest.
Jared Rhizor, the founder of MealByMeal, had a clear vision when creating the service. "I wanted to build a version of calorie tracking that would take me less than a minute a day," he explained. This vision is at the core of MealByMeal's mission – to provide an efficient and accessible approach to calorie tracking for everyone.
MealByMeal combines cutting-edge AI technology, including the latest large language models like GPT, with comprehensive nutrition databases to estimate the calories and macros (protein, carbs, and fat) in the user's meal descriptions. These estimates are then presented to users via easy-to-navigate dashboards on the MealByMeal website.
One key benefit that sets MealByMeal apart is its ability to eliminate choice paralysis. Unlike other competitors in the market, MealByMeal decides which items in the nutrition database match your input, streamlining the tracking process and reducing decision fatigue.
The service's unique approach to goal setting is also a standout feature. Instead of focusing solely on specific calorie counts, MealByMeal suggests ideal weight ranges, emphasizing the importance of sustainable weight management. It's not just about reaching a number; it's about finding and maintaining your ideal weight range.
Rhizor was motivated to develop this solution after experiencing the cycle of gaining weight again after weight loss using traditional calorie-tracking apps. "Something needed to change to be able to keep up calorie tracking more than a couple months at a time", Rhizor said.

The service has been in a private beta phase for several months, during which time the quality of calorie estimation has continuously improved. "MealByMeal makes keeping an eye on my eating habits simpler and faster," said Christina, a MealByMeal beta tester.
As MealByMeal moves forward, subscription plans are in place to expand its features to include barcode scans and food photos, making tracking even easier.
MealByMeal is launching an alternative to traditional calorie-tracking apps. It offers users a streamlined, easy-to-use experience with no app installations required. Instead of wrestling with food databases and detailed entries, users can simply describe their meals through text messages and focus on achieving their ideal weight range.
For those seeking a sustainable and user-friendly approach to nutrition tracking, MealByMeal is the answer. For more information, users can visit MealByMeal's website or email contact@mealbymeal.com.
For updates, follow MealByMeal on social media:

Twitter: https://twitter.com/mealbymeal

Instagram: https://www.instagram.com/getmealbymeal/

YouTube: https://www.youtube.com/@getmealbymeal

Facebook: https://www.facebook.com/mealbymeal
About:

MealByMeal, a California-based software service, redefines nutrition tracking by enabling users to effortlessly monitor their calorie and macro intake via text messages. Developed to eliminate the complexities of traditional apps, MealByMeal emphasizes sustainable weight management and user-friendly meal logging.

Jared Rhizor
MealByMeal
contact@mealbymeal.com
The content is by EIN Presswire. Headlines of Today Media is not responsible for the content provided or any links related to this content. Headlines of Today Media is not responsible for the correctness, topicality or the quality of the content.
Subscribe us on