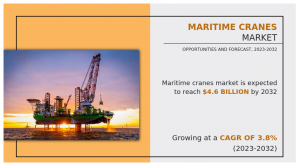 The Maritime Cranes market is registering a CAGR of 3.8% from 2023 to 2032
PORTLAND, OREGON, UNITED STATES, November 6, 2023 /EINPresswire.com/ — The global maritime cranes market size was valued at $2,794.5 million in 2020, and is projected to reach $4,590.5 million by 2032, registering a CAGR of 3.8% from 2023 to 2032
The Maritime Cranes Market, also known as ship cranes or offshore cranes are important components of the maritime industry, as they significantly aid in material handling in the ocean or other water bodies. Marine cranes are made to withstand harsh environment conditions including rain, storms, high waves, and others. Commonly observed types of booms on a maritime crane are lattice boom, and telescopic boom. Out of these two segments, lattice boom accounted for a higher market share in 2022. Lattice boom is easy and quick to construct with relatively less materials.
Request for Sample Report (Get Full Insights in 193 PDF Pages) @ https://www.alliedmarketresearch.com/request-sample/107638
Top Leading Companies: Seatrax, Inc., PLM Cranes B.V., PALFINGER AG, Cargotec Corporation (MacGregor), Liebherr-International AG, Sormec s.r.l., Heila Cranes S.p.A., NOV INC., Kenz Figee, Huisman Equipment B.V.
It can lift heavy loads with ease, without the risk of deflection of the boom. On the other hand, the telescopic boom is expected to grow with a higher CAGR, and therefore dominate the maritime cranes market forecast. Telescopic booms are suitable for places with space constraints. Moreover, by capacity, the above 300 tons segment dominated the maritime cranes market share, in terms of revenue in 2022. Cranes in this segment are used for extreme heavy lifting operations in offshore construction.
The global maritime industry plays a pivotal role in the transportation of goods, serving as a lifeline for the global economy. Central to this industry are the essential pieces of equipment known as maritime cranes. These specialized machines have become an integral part of port operations, facilitating the efficient loading and unloading of cargo from ships. Exploring its current state, growth drivers and future prospects.
The Maritime cranes, also known as ship-to-shore (STS) cranes and container cranes, are versatile machines designed to handle a variety of cargo types. They are used to move containers, bulk goods, heavy machinery, and even passengers in some cases. These cranes are commonly found in seaports and container terminals, where they play a critical role in streamlining cargo handling operations. The integration of automation and digital technology is transforming the maritime crane market. Automation enhances efficiency, reduces operational costs, and minimizes human error.
Buy This Research Report @ https://www.alliedmarketresearch.com/checkout-final/d185ffae666d49fc7c1ba07d20021af0
As international trade continues to surge, the demand for efficient and reliable cargo handling equipment has increased. Maritime cranes are essential for meeting this demand by enhancing port productivity and reducing vessel turnaround times. Aging port infrastructure is being replaced with modern, more efficient terminals. These new facilities require state-of-the-art maritime cranes to meet the growing demands of global trade.
Developing economies are investing heavily in port infrastructure, creating opportunities for crane manufacturers. Environmental regulations and sustainability goals will continue to drive the development of eco-friendly, energy-efficient cranes. The integration of smart technology and automation will further enhance the capabilities and efficiency of maritime cranes. The surge in e-commerce has led to increased container traffic, further boosting the demand for maritime cranes. In the wake of supply chain disruptions, there is a growing emphasis on strengthening supply chain resilience, which requires efficient port operations.
The maritime cranes market is experiencing steady growth, driven by global trade expansion, infrastructure development, technological advancements, and sustainability initiatives. As the maritime industry continues to evolve and adapt to changing market dynamics, the demand for efficient and versatile maritime cranes will remain high. Manufacturers and stakeholders in the maritime cranes market must stay vigilant, ready to embrace innovation and adapt to the ever-evolving needs of the industry.
Enquiry Before Buying @ https://www.alliedmarketresearch.com/purchase-enquiry/107638
David Correa
Allied Analytics LLP
+ +1 800-792-5285
email us here
Visit us on social media:
Facebook
Twitter
LinkedIn
The content is by EIN Presswire. Headlines of Today Media is not responsible for the content provided or any links related to this content. Headlines of Today Media is not responsible for the correctness, topicality or the quality of the content.
Subscribe us on