Local Car Dealer partners with TerraCycle to improve recycling strategies, reduce waste, and repurpose many items.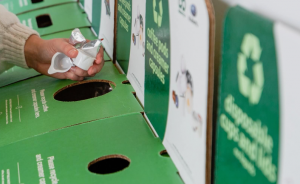 Purchase items you know can be recycled and provide special recycling boxes for each product.
Local Car Dealer partners with TerraCycle to improve recycling strategies, reduce waste, and repurpose as many products as possible.
BRANFORD, CT, UNITED STATES, June 7, 2023/EINPresswire.com/ — Premier Kia, a leading Kia dealership in Branford Connecticut, today announced a new recycling initiative designed to reduce the dealership's environmental impact. The initiative, which was developed in partnership with TerraCycle, will allow Premier Kia to recycle a wider variety of materials, including electronics, latex gloves, and coffee bar items.
"Reducing vehicle emissions and global warming are topics generating worldwide discussion," said Robert Alvine, President of Premier Kia. "We know that there are so many other things local dealers can be doing to help reduce the carbon footprint of auto industry operations. Premier Kia's team wanted to show its commitment to a cleaner and better environment by designing and implementing local industry leading recycling and waste collection efforts. So, we teamed up with TerraCycle and built a strategy to maximize recycling while doing our best to reduce overall waste in our daily business operations."
As part of the new initiative, Premier Kia will collect a variety of materials that are typically not accepted by traditional recycling programs. These materials include:
• Small Automotive electronic components and wire.
• Parts, oil and latex gloves used in our Kia Service Department.
• Coffee cup covers, stirrers, coffee/cookie bags and k-cups.
Premier Kia will work with TerraCycle to recycle these materials and ensure that they are disposed of properly. The dealership will also provide customers with information about recycling and waste reduction.
"We are excited to partner with Premier Kia on this important initiative," said Tom Szaky, CEO and Founder of TerraCycle. "Premier Kia is a leader in the auto industry, and their commitment to sustainability is inspiring. We are confident that this partnership will help Premier Kia reduce its environmental impact and set an example for other businesses."
The new recycling initiative is part of Premier Kia's ongoing commitment to sustainability. The dealership has several other sustainability initiatives in place, including:
• Using Electric Vehicles in our loaner fleet and offering EV charging stations.
• Using Waste-oil Burners to heat our facility.
• Purchasing Carbon Offset Credits against our Power Usage.
• Sending our parts packaging back to Kia to be reused.
Premier Kia is committed to reducing its environmental impact and making a positive difference in the community. Adding these new recycling initiatives beyond the normal efforts is a significant step forward towards our goal.
Robert Alvine
Premier Kia
+1 (203) 315-2050
email us here
Visit us on social media:
Facebook
YouTube
Other
The content is by EIN Presswire. Headlines of Today Media is not responsible for the content provided or any links related to this content. Headlines of Today Media is not responsible for the correctness, topicality or the quality of the content.