iRhythm is launching its next generation long-term ambulatory cardiac monitor in the U.S.
Zio® monitor builds on the high performance of Zio® XT that, together with its enhanced Zio® long term continuous cardiac monitoring service, provides an elevated end-to-end experience
Zio monitor demonstrates high 99% patient compliance with prescribed wear times1
SAN FRANCISCO, Sept. 26, 2023 (GLOBE NEWSWIRE) — iRhythm Technologies, Inc. (NASDAQ:IRTC) today announced the U.S. launch of its next-generation Zio® monitor and enhanced Zio® long-term continuous monitoring (LTCM) service. Zio monitor is iRhythm's smallest, lightest and thinnest cardiac monitor, enhancing the cardiac monitoring experience for patients and healthcare providers together with new service enhancements.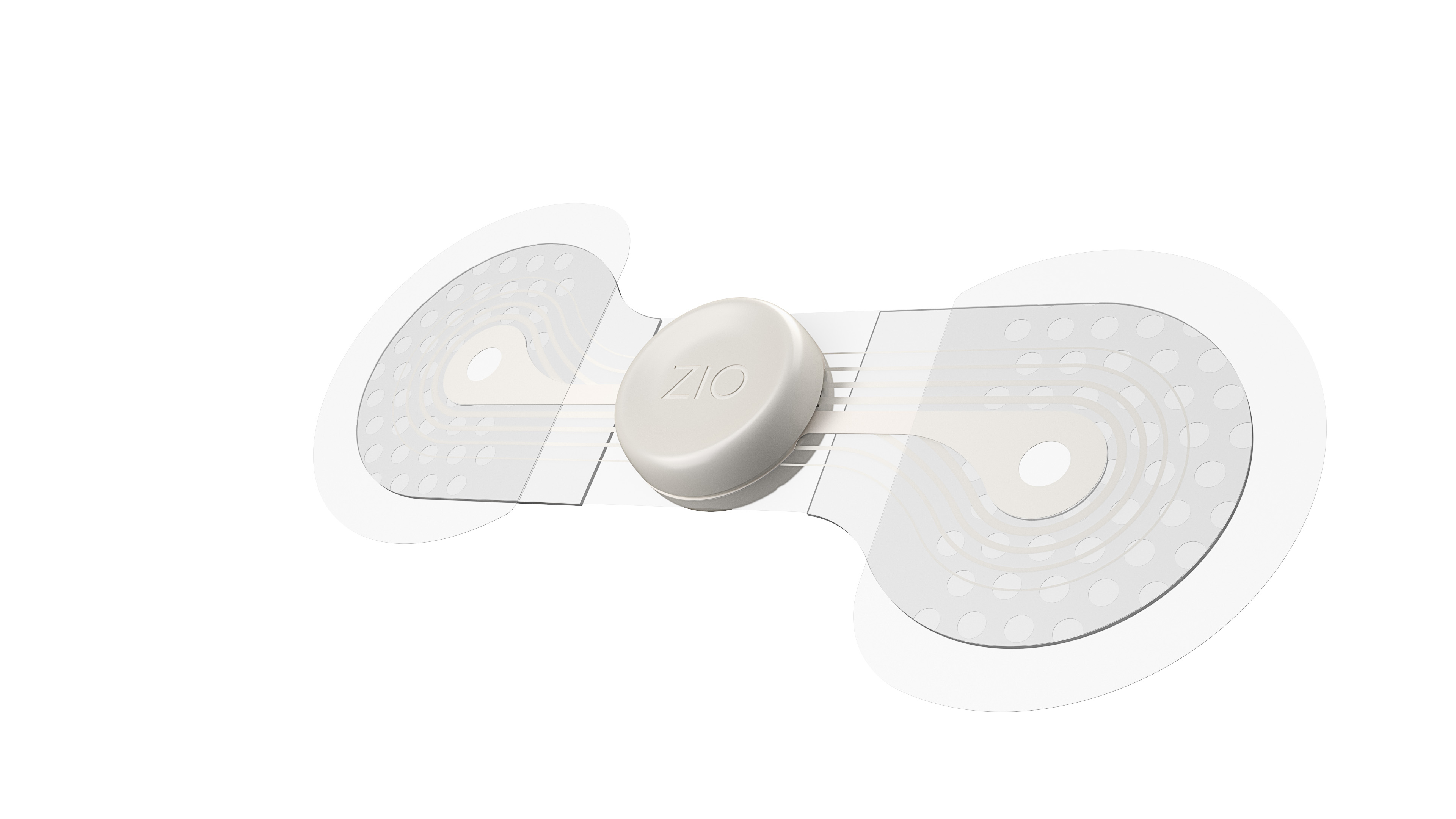 Figure 1 – Zio monitor by iRhythm
The new Zio monitor is a prescription-only ECG monitor, which is an integral part of the Zio LTCM service. The Zio LTCM service consists of a patch ECG monitoring device (Zio monitor), the ZEUS (Zio ECG Utilization Software) System – iRhythm's advanced AI algorithm which supports the capture and analysis of ECG data recorded by Zio monitor – and a comprehensive end-of-wear report which is reviewed by certified cardiographic technicians. This end of wear report has a 99% physician agreement.2
"We've made our best product even better – early clinical and patient experience shows that Zio monitor has even better wear times, comfort and patient experience," said Mintu Turakhia, MD, MAS, Chief Medical Officer, Chief Scientific Officer and Executive Vice President, Product Innovation at iRhythm. "When you combine our new Zio monitor with our advanced AI, efficient workflow, patient and clinician apps, and easy-to-read and actionable clinical reports, we continue to lead the way in the field."
Building on High Performance
Zio monitor is designed to improve diagnostic yield and provider efficiency through an enhanced patient experience, enabling long-term, continuous wear for up to 14 days. It builds on the high-performance of Zio® XT monitor and has:
An improved form-factor for a better patient wear experience – it is 23% thinner3,4, 62% lighter3,4, 72% smaller3-5 and weighs less than a pencil.6
Continued high patient compliance with prescribed wear time – Zio monitor demonstrates 99% patient compliance with prescribed wear times7 to help healthcare providers make the right diagnosis the first time.
Other features that make it easy to wear and allow patients to go about their daily lives8 – it is breathable, has a hydrocolloid adhesive and a waterproof housing9,10, and requires no device or adhesive manipulation or battery change during the entire wear and monitoring period of up to 14 days.
Enhancing Patient Experience
Together with Zio monitor, iRhythm is releasing the redesigned MyZio® patient app, updated with a new user interface and other enhancements for an even better patient experience. New features include easier symptom logging, educational videos and content, and a redesigned help center to better address patient questions. With the Zio LTCM service covered by many commercial insurance companies, plus Medicare, iRhythm is also introducing new enhancements to the patient experience with improved patient support processes to assist patients in navigating insurance coverage questions and pre-authorizations. The new Zio monitor, together with the Zio LTCM service, provides an elevated end-to-end experience for both patients and clinics throughout their journey with the Zio service.
Clinically Proven Performance
iRhythm's advanced FDA-cleared AI has a deep-learned algorithm clinically proven to be as accurate as expert cardiologists.11 In addition, the CAMELOT study, which was presented at the American College of Cardiology's Annual Scientific Session earlier this year, found that in a study population of 287,789 patients, Zio long-term continuous monitoring (LTCM) service, prescribed for up to 14 days of monitoring, is associated with the highest diagnostic yield, lowest likelihood of retesting, and the lowest likelihood of acute care hospitalization compared to all other monitoring services, including other long-term continuous monitors in the study.12
Zio LTCM service can help physicians better identify, diagnose and manage cardiac arrhythmias. It is estimated that up to 5% – or nearly 16 million people – of the general U.S. population experiences arrhythmias.13,14 If not treated, some arrhythmias can damage the heart, brain, or other organs, and may even lead to an increased risk of stroke and death.15 Early detection and treatment of arrhythmias in previously diagnosed patients are important to reduce the burden of cardiac disease.
Availability
Zio monitor begins shipping now and will be widely available across U.S. clinics by early 2024. To learn more about Zio monitor, go to iRhythmtech.com.
About iRhythm Technologies, Inc.
iRhythm is a leading digital health care company that creates trusted solutions that detect, predict, and prevent disease. Combining wearable biosensors and cloud-based data analytics with powerful proprietary algorithms, iRhythm distills data from millions of heartbeats into clinically actionable information. Through a relentless focus on patient care, iRhythm's vision is to deliver better data, better insights, and better health for all.
Investor Relations Contact:
Stephanie Zhadkevich
(919) 452-5430
investors@irhythmtech.com
iRhythm Media Contact:
Saige Smith
(262) 289-7065
irhythm@highwirepr.com
---
1 Data on file. iRhythm Technologies, 2022.
2 99% of physicians agree with the comprehensive patient report. Based on a review of all online Zio XT patient reports. Data on file. iRhythm Technologies, 2021.
3 Data on file. iRhythm Technologies, 2023.
4 Compared to previous generation.
5 Volume reflected in the device housing.
6 10g
7 Data on file. iRhythm Technologies, 2022.
8 Data on file. iRhythm Technologies, 2021, 2022.
9 Data on file. iRhythm Technologies, 2017, 2023.
10 The Zio monitor patch should not be submerged in water. During a bath, keep the device above water.
11Hannun, AY. et al., Cardiologist-level arrhythmia detection and classification in ambulatory electrocardiograms using a deep neural network. Nature Medicine, 2019.
12Reynolds et al. Comparative effectiveness of ambulatory monitors for arrhythmia diagnosis: A retrospective analysis of Medicare beneficiaries managed with ambulatory cardiac monitors between 2017 and 2019. Accepted for ACC.23 presentation, presented at New Orleans, LA
13 Desai et al. Arrhythmias. StatPearls, 2022.
14 U.S. Census Bureau Quickfacts: United States. https://www.census.gov/quickfacts/fact/table/US/POP010220.
15 Ataklte et al. Meta-analysis of ventricular premature complexes and their relation to cardiac mortality in general populations. The American Journal of Cardiology, 2013.
A photo accompanying this announcement is available at https://www.globenewswire.com/NewsRoom/AttachmentNg/a75b3779-a60e-4263-9d1b-a7ab15287407

Source link
The content is by Globe Newswire. Headlines of Today Media is not responsible for the content provided or any links related to this content. Headlines of Today Media is not responsible for the correctness, topicality or the quality of the content.
Subscribe us on