VANCOUVER, British Columbia, Feb. 03, 2023 (GLOBE NEWSWIRE) — Nextech AR Solutions Corp. (OTCQX:NEXCF) (CSE:NTAR) (FSE:N29), a Metaverse Company and leading provider of augmented reality experience technologies and 3D model services, announced the terms of the spin-out of Toggle3D. Launched in September, Toggle3D is an AR enhanced standalone web application which enables product designers, 3D artists, marketing professionals and eCommerce site owners to create, customize and publish high-quality 3D models and experiences, with new features allowing multiple users to work at the same time on the same project.
A Media Snippet accompanying this announcement is available by clicking on the image or link below: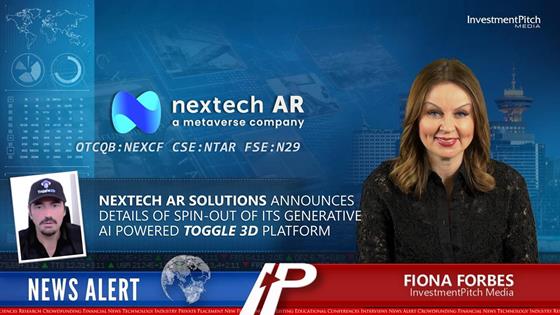 For more information, please view the InvestmentPitch Media video which provides additional information about this news and the company along with video comments from Nextech AR's CEO, Evan Gappelberg. The video is available for viewing on "InvestmentPitch" and on "YouTube". If these links are not enabled, please visit www.InvestmentPitch.com and enter "Nextech" in the search box.
The goal is for anyone with no prior technical or 3D design experience to be able to hop into the platform and create a high-quality 3D visual in minutes. With the platform created as a web-based design studio, the user can access everything on the browser with no downloads involved, no updates to keep track of, and no system requirements to worry about.
Nextech plans to spin-out the Toggle3D platform and associated assets into a new Subco by way of a plan of arrangement. Upon completion of the spin-out it is expected that Nextech will retain approximately 65% of the shares of the Subco, with approximately 20% of the shares distributed directly to Nextech shareholders on a pro rata basis, and the balance of 15% of the shares being distributed to certain service providers of Nextech in payment of past services. Following the completion of a proposed private placement, these percentages will be adjusted.
The Subco intends to raise up to $1.5 million from the placement of 6 million subscription receipts priced at $0.25 each, with the funds held in escrow. Following satisfactory completion of the terms of transaction and standard closing conditions, the subscription receipts will be automatically exchanged for units consisting of one share and one warrant, with the warrant exercisable at $1.00 for 36 months, subject to an acceleration clause. While everything is completed, Toggle3D will be applying to list on the Canadian Securities Exchange. The record date for this spinoff has not yet been set.
The newly listed company will be led by Evan Gappelberg as the CEO and for more information regarding the other directors and officers please refer to today's news release.
Nextech AR Solutions leverages proprietary artificial intelligence (AI) to create 3D experiences for the metaverse. Following these spin-outs, Nextech's current business is creating 3D WebAR photorealistic models for the Prime Ecommerce Marketplace as well as many other online retailers. The company has a proven track record of developing or acquiring what it believes are disruptive technologies and once commercialized, spinning them out as stand-alone public companies.
Nextech has been a favorite with investors, particularly following the highly successful spinoff of ARway in October. With ARway currently trading at $1.15, Nextech's holdings of 13 million shares are contributing about $15 million to Nextech's market capitalization.
The Toggle3D software addresses the global computer aided design market, which is expected grow from US$9.89 billion in 2022 to US$17.47 billion by 2030, a compound annual growth rate of 6.9%, according to a recent report by Research and Markets, the world's largest market research store.
The shares are trading at $0.77. For more information, please visit the company's website at www.NextechAR.com. Investor Relations is handled by Lindsay Betts, who can be reached at 866-274-8493 Ext 7201 or by email at investor.relations@nextechar.com.
About InvestmentPitch Media
InvestmentPitch Media leverages the power of video, which together with its extensive distribution, positions a company's story ahead of the 1,000's of companies seeking awareness and funding from the financial community. The company specializes in producing short videos based on significant news releases, research reports and other content of interest to investors.
Disclaimer
The information in this Investmentpitch Media Ltd video is for the viewers information only. Nextech AR Solutions has paid a fee not exceeding $2,000 in cash to have its current news release produced in video format. The corporate information is based on information that is publicly available. Any information provided by Investmentpitch Media Ltd., through its media services is not to be construed as a recommendation or suggestion or offer to buy or sell securities but is provided solely as an informational media service. Investmentpitch Media Ltd makes no warranties or undertakings as to the accuracy or completeness of this information. All due diligence should be done by the viewer or their financial advisor. Investing in securities is speculative and carries risk.
The content is by Globe Newswire. Headlines of Today Media is not responsible for the content provided or any links related to this content. Headlines of Today Media is not responsible for the correctness, topicality or the quality of the content.