SAINT PETERSBURG, Fla., May 31, 2023 (SEND2PRESS NEWSWIRE) — Seamule, LLC, a trailblazer in solutions simplifying life around the water, proudly presents its groundbreaking new product – Flushmaster – the world's first portable outboard engine flushing system. Engineered to streamline the process of flushing outboard engines after use, this innovative system not only promotes engine longevity but also saves significant time and water.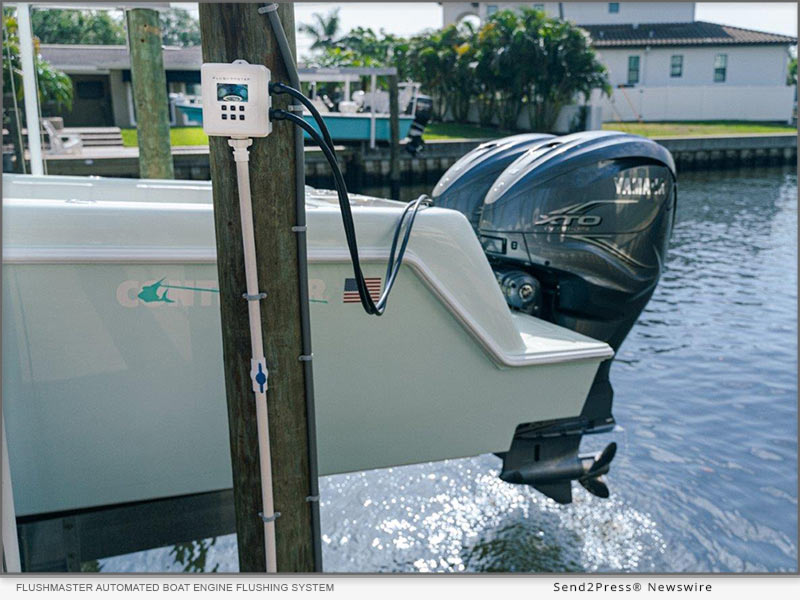 Photo caption: The FlushMaster Automated Boat Engine Flushing System Portable or Dock / Boatlift Installed 2023.
Housed in a portable marine-grade waterproof box, the Flushmaster system sequentially flushes each engine, utilizing the full force of your water pressure for optimal flushing. Compatible with one to four outboard engines, a boater simply connects the device's outlet hoses to their outboards' flushing ports, presses ON, then START, and the Flushmaster handles the rest.
With the Flushmaster system controlling the water supply, there is no need to touch the water source valve after installation. Portable and versatile, the system can easily accompany you to the marina or can be permanently installed near your boat. Flushmaster is a game-changer for boat owners, simplifying engine maintenance and extending the life of their boats.
"We are thrilled to bring Flushmaster to market, a true plug-and-play and easy-to-use solution to flushing boat engines," said Cayman Ellis, President of Flushmaster. "Our cutting-edge technology streamlines the engine flushing process, saving our customers time and water while ensuring their boats remain well-maintained for years to come."
You can see Flushmaster in action in this YouTube video: https://youtu.be/sDNyLgxTPTs
The Flushmaster outboard flushing system is now available for purchase. For more information, visit https://seamule.com/pages/flushmaster-landing-page-1 or contact Seamule at (855) 732-6853 or sales@seamule.com
About Seamule:
Seamule is all about moving things around the water, as easily as possible. Whether you are floating in the pool, heading to the beach, or going boating – Seamule has a product for you. Our newest product, the Flushmaster, simplifies the process of flushing your outboard boat engines. Connect your hoses, push a button, and walk away! Learn more: https://seamule.com/.
"Let the mule do the work!"
MEDIA CONTACT:
Cayman Ellis, President.
Seamule LLC
cayman.ellis@seamule.com
727-365-4566
*PHOTO link for media: https://www.Send2Press.com/300dpi/23-0531-s2p-seamule-300dpi.jpg
*Caption The FlushMaster Automated Boat Engine Flushing System Portable or Dock / Boatlift Installed 2023.
News Source: Seamule LLC