BOSTON, Mass., Nov. 20, 2023 (SEND2PRESS NEWSWIRE) — The venerable indie rock band Guided By Voices (GBV) recently celebrated 40 years of music with several thousand fans in its hometown of Dayton, Ohio, performing two sold-out shows at the Dayton Masonic Center over Labor Day weekend. In the spirit of bringing that celebration to Boston, four local fans (calling themselves the Textbook Committee) have organized Forever Since Heedfest, which brings three GBV tribute bands and diehard fans from near and far to Warehouse XI in Somerville, MA this February.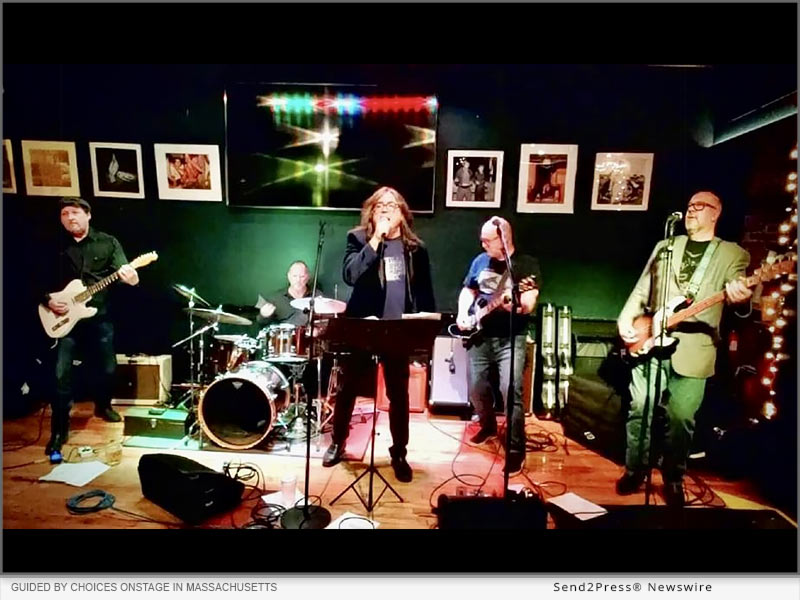 Photo Caption: Guided By Choices onstage in Massachusetts.
The "Dayton GBV40" weekend saw some fans attending from as far away as Australia, and the city of Dayton was alive with the camaraderie of fans that insist online – tongue-in-cheek – that the fanbase is #notacult. In between performances, hundreds trekked to the Bandshell at Metro Park, the site of the first Guided By Voices show in 1983, and otherwise joined together in groups small and large to celebrate the band and its history. One local fan even opened his home to about 100 fans, who took in an afternoon performance from Teenage FBI, a GBV tribute band led by superfan Stephen Risley.
On February 10, the New Jersey-based Teenage FBI will join GBV tribute bands Cul de Sac Kids of Pittsburgh and hometown headliner Guided By Choices for Forever Since Heedfest, a regional celebration intended to bridge the gap between the annual Labor Day weekend "Heedfest" fan gatherings in Dayton. Tickets went on sale November 10 and in GBV fan fashion are moving fast, with fans from as far away as Seattle confirming attendance.
While loose discussion of a Boston event has circulated among local fans for several years, the seeds of Forever Since Heedfest, a playful riff on the band's 1986 debut EP Forever Since Breakfast, were firmly planted over the Dayton GBV40 weekend. Earlier this month, longtime fans Allison Ryder, Brian Galante, Dan Cortez and Tim Bugbee formed the Textbook Committee to plan and promote the event. The task is not a revenue-generating initiative; it is simply a labor of love for four friends with full-time jobs unrelated to concert promotion.
"Guided By Voices has a special community of diehard and casual fans that come together for shows throughout the United States and share a common bond – a love of the songbook and the band members themselves, who return that love with up to three hours of music at each show," said Ryder, the natural leader of the Textbook Committee, who has traveled to seven states to see GBV live since 2021. "Something unspoken happens when the fans come together, as was in strong evidence at GBV40 last summer. We want to bring that camaraderie to Boston, even if on a much smaller scale."
"The ultimate hope is to establish an annual tradition here in Boston that can be replicated and evolved by fans in other cities," added Cortez, a longtime fan with playful anecdotes of spending time with the band offstage as far back as the 1990s.
GBV bandleader Robert Pollard – GBV's principal songwriter and vocalist over four decades – regularly acknowledges his fans from the stage, clearly absorbing the crowd's adoration and reflecting it back through his energetic performances and trademark high leg kicks. Pollard and his bandmates – lead guitarist Doug Gillard, rhythm guitarist Bobby Bare Jr., bassist Mark Shue, and drummer Kevin March – share another common thread with the GBV fanbase: A love of Miller Lite, which the band liberally consumes from the stage at nearly every show.
There will be plenty of Miller Lite and other adult (and non-alcoholic) beverage options at the three-hour event, which begins at 7:30pm that Saturday evening. Additional bands are in discussions to join the bill at press time, and the Textbook Committee is also planning an art and photography display to add visual flair to the proceedings. That includes professional imagery of GBV in action taken by Bugbee, who moonlights as a live music photographer.
The event is 21+ and open to all.
Advance tickets are $20 and can be purchased at http://24hourconcerts.showare.com/FSHWHXI, and are $25 day of show. And in true GBV fan fashion, expect a party – or several parties – to break out in the city over the weekend.
Visit the Forever Since Heedfest event page on Facebook at https://www.facebook.com/events/246156221475441/ for more information.
About Textbook Committee:
The Textbook Committee was formed by four Boston-area professionals who came together as music fans and friends to establish the maiden Forever Since Breakfast event with the goal of creating an annual gathering in New England for regional Guided By Voices fans. The four Textbook Committee members work in engineering (Allison Ryder), pharmaceuticals (Tim Bugbee), public relations (Brian Galante) and social services (Dan Cortez), and have teamed up to bring their various skillsets to support sales, marketing, venue/band bookings and general event planning initiatives.
News Source: Textbook Committee
Source link
Subscribe us on