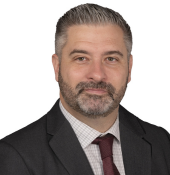 Sean Storan, New Regional Growth Manager Hampton Roads Region
Sean will provide the highest quality of resources, services and engagement for industrial clients in the Hampton Roads region."
— Bill Donohue, President, and Executive Director of GENEDGE
MARTINSVILLE, VA, UNITED STATES, October 24, 2023 /EINPresswire.com/ — GENEDGE, Virginia's best public resource to help existing manufacturing and industry innovate, compete, and grow, is pleased to announce that Sean Storan has been hired as Regional Growth Manager for the Hampton Roads region.
As a Regional Growth Manager, Sean Storan will lead business development efforts to support manufacturers in the Hampton Roads region of the Commonwealth. He will collaborate with owners and senior executives of manufacturing, engineering, and technology companies to manage the full lifecycle of projects supporting the companies' strategic goals. Prior to joining the GENEDGE team, he was the Senior Vice President of Business Development for Integrity ISR, LLC. Other previous positions were Senior Vice President of Strategic Accounts for Pervacio, Inc. where he was hired specifically for his demonstrated ability to foster and manage relationships with high interest strategic clients, including Apple and AT&T.
While there he built a from-scratch network with Apple's Warehouse Service Operations teams in Ireland and the UK. Sean is known for his extensive record of achievement across trade, international, and organizational boundaries, building and leveraging strategic partnerships with individuals, companies, grassroots organizations and targeted demographics to achieve market expansion.
Sean earned a bachelor's degree from the Sligo Institute of Technology in Sligo, Ireland where he graduated with honors.
"Sean is a strong advocate for his customers and brings an international background and Defense services experience to our team", said Bill Donohue, President, and Executive Director of GENEDGE. "Sean will provide the highest quality of resources, services and engagement for industrial clients in the Hampton Roads region."
Jeanette Cunnigham
GENEDGE
info@genedge.org
Visit us on social media:
Facebook
Twitter
LinkedIn
YouTube
The content is by EIN Presswire. Headlines of Today Media is not responsible for the content provided or any links related to this content. Headlines of Today Media is not responsible for the correctness, topicality or the quality of the content.
Subscribe us on