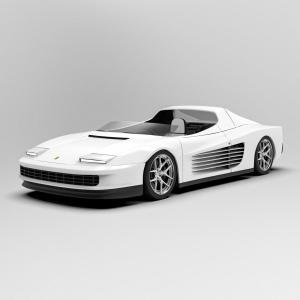 Rendering of the new Testa, a full EV custom build currently being built by Gas Monkey Garage in Dallas, Texas
The Testa mid-build
Experience the Future of Automotive Design at SEMA 2023 as Gas Monkey Garage Redefines the Game Yet Again!
We've always been about pushing boundaries and thinking outside the box. The Testa is a testament to our dedication to the craft and we can't wait to reveal it to our global audience."
— Richard Rawlings
DALLAS, TEXAS, UNITED STATES, October 25, 2023 /EINPresswire.com/ — Gas Monkey Garage, the iconic automotive customization and restoration shop, is thrilled to announce the world premiere of its extraordinary custom creation, "The Testa," at the upcoming SEMA 2023 show in Las Vegas. This striking reinterpretation of the Ferrari Testarossa boasts a complete custom roadster chop design, center-seat steering, and a complete electric conversion. The world-famous garage, which has gained fame through its hit TV show, Fast N' Loud and led by its charismatic CEO, Richard Rawlings, have been setting the internet ablaze with its Building the First Ever Testa series, a riveting journey documented on YouTube, Instagram, and Facebook.
The Testa, a 1989 Ferrari Testarossa, was one of five Testarossa's featured in the 2021 movie, Infinite, starring Mark Wahlberg. In early 2023, Rawlings acquired these iconic Ferraris in Northern Ireland and chronicled their transformation in the heart of Gas Monkey Garage in the YouTube series, My Five Ferrari Testarossas. This remarkable reinvention of the legendary Ferrari Testarossa encapsulates Gas Monkey Garage's innovation, craftsmanship, and state-of-the-art engineering.
Key Features of the Gas Monkey Garage Testa

– Custom Designed Body Style: "The Testa" showcases a unique and completely custom roadster chop design, setting it apart with a one-of-a-kind aesthetic.

– Full Electric Vehicle (EV) Custom Build: Gas Monkey Garage has seamlessly integrated advanced EV technology into the Testa, making it a modern-day energy efficient performance car with a Cascadia motion IDM-190 motor that is capable of 4140 Nm of axle torque.

– Center-Seat Steering: The Testa features a center-seat steering design inspired by the McLaren F1 to offer a driving experience unlike any other while combining aesthetics with functionality.

– Top-of-the-Line Components: Gas Monkey Garage has partnered with industry-leading brands, including Bilstein, Brembo, Legacy EV, XK Glow, Vossen, and Continental, to guarantee unparalleled performance, safety, and style.
The Testa is a one-of-a-kind vehicle with a custom-designed body created by Gas Monkey Garage that boasts a distinctive futuristic appearance. It replaces the original flat V12 mid-engine with a Cascadia Motion IDM 190 3-1 module, maintaining the weight distribution originally designed by Ferrari in 1989. The car is powered by 36 Kore Power batteries, divided into three sections, with most of the batteries situated in the original fuel tank location. The lighting system has been completely reimagined with XK Glow technology, providing a futuristic and stylish look. Notably, the Testa features a center steer seat, offering a unique driving experience, and the seat design itself is inspired by the Ferrari Daytona, blending classic and contemporary design elements into this futuristic vehicle.
Bilstein's AS2-R new generation race coilovers are fully adjustable on compression and rebound with the easy-to-use remote reservoir's mounted to the inner fender wells. Four units in the rear and two in the front bring the handling up to modern day standards. Brembo has supplied a full race braking system with 15" rotors on the four corners and mounted on alloy hats with six piston calipers in the front and four in the back all round compliment the 19-20" Vossen wheel combo. These were custom cut for this project and Gas Monkey Garage exclusively.
Richard Rawlings, the driving force behind Gas Monkey Garage, expressed his enthusiasm about the Testa's debut at SEMA 2023, saying, "We've always been about pushing boundaries and thinking outside the box. The Testa is a testament to our dedication to the craft and we can't wait to reveal it to our global audience."
Gas Monkey Garage's Testa has been generating significant attention within the automotive world and will be on display at the Legacy EV booth during SEMA 2023. This is an opportunity for automotive enthusiasts and industry professionals to get an up-close and personal look at the future of automotive innovation and design.
For media inquiries, interviews, or to schedule a visit at the SEMA 2023 Show, please contact:

Margaret Raine

margaret@gasmonkeygarage.com

(702) 803-0705
For more information about Gas Monkey Garage and their SEMA 2023 showcase, please visit www.gasmonkeygarage.com.
About Gas Monkey Garage

Gas Monkey Garage, owned by entrepreneur Richard Rawlings, launched in Dallas, Texas in 2004. The shop, popularized by the Discovery Channel series Fast N' Loud, the channel's number one show for 8 years, customizes classic and hot-rod automobiles and has gained a worldwide reputation for its meticulous attention to detail and innovative approach to automotive projects. Additional TV series, Misfit Garage, Garage Rehab, Demolition Theatre, and Shop Class were launched with Rawlings as the creative director and executive producer. Over the years, Gas Monkey Garage has partnered with many brands, including Dodge, Miller Lite, Gorilla Pro, as well as NASCAR, several drag racing teams, and the Isle of Man TT Races. Gas Monkey Garage currently premiers multiple episodes of their automotive projects each week across their YouTube and social media platforms.
Richard Rawlings, an American entrepreneur, television personality, and car enthusiast founded Gas Monkey Garage in Dallas, Texas in 2004. The garage was brought to global stardom by the Discovery Channel's reality television series Fast N' Loud, which premiered in 2012 and showcased Richard's passion for restoring and flipping classic cars. Between owning multiple restaurants/venues, having his own Tequila and Energy Drink, global apparel brand, and sponsoring some of the top names in motorsport racing, Richard Rawlings is no stranger to tackling projects he's passionate about, head on.
Margaret Raine
Gas Monkey Garage
+1 702-803-0705
margaret@gasmonkeygarage.com
Visit us on social media:
Facebook
Instagram
YouTube
Testa Series
The content is by EIN Presswire. Headlines of Today Media is not responsible for the content provided or any links related to this content. Headlines of Today Media is not responsible for the correctness, topicality or the quality of the content.
Subscribe us on