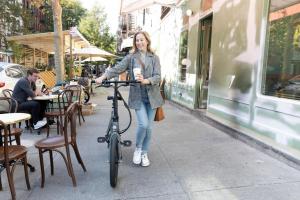 NETHERLANDS, November 6, 2023 /EINPresswire.com/ — DYU's innovation path:
DYU, the Dutch company, as a global leader in the electric bicycle industry, has been promoting the innovation of mobility. Every technological breakthrough of DYU is a thoughtful consideration of the future of travel. Today, DYU is once again revolutionizing urban mobility with its new T1 folding electric bike.
T1: Lightweight material, powerful core:
The DYU T1 electric bicycle is made of lightweight magnesium alloy material, and the overall design has no welding points, showing the beauty of streamline. This material not only makes the T1 more visually modern, but also more practical. The folding design makes the T1 easy to carry and store, whether in the trunk of a car, in a home storage unit, or in the subway.
Technological breakthrough:
The technical highlight of the T1 is its torque sensor, and the application of this latest technology has significantly improved the energy-saving performance of the T1. The intelligent torque sensor can accurately measure pedal torque, step frequency and speed, and adjust the output power of the motor according to changes in terrain and riding behavior, making riding more effortless.
Attention to detail:
The DYU T1 also excelled in detail. From the bright headlights to the SHIMANO 7-speed system to the improved control of the front and rear disc brakes, every detail reflects DYU's rigorous approach to the product. Non-slip handlebars provide a better grip on rainy days, ensuring safe riding. The shock-absorbing system makes the ride more comfortable.
Combination of environmental protection and efficiency:
As a leader in electric bicycles, DYU always adheres to the concept of environmental protection and efficiency. The launch of the T1 not only reflects the company's commitment to environmentally friendly travel, but also shows the pursuit of improving the efficiency of urban life.
Mr. Jansen, DYU's chief operating officer, said: "The T1 folding e-bike is a perfect illustration of our concept of smart and environmentally friendly mobility. We believe that this product can not only meet the needs of urbanites for travel efficiency, but also lead a new way of life. The T1 is not just an e-bike, it is part of urban life and synonymous with the future of mobility."
Conclusion:
The DYU T1 electric bicycle, with its lightweight materials, powerful core and exquisite attention to detail, has become a new choice for urbanites in pursuit of smart living. It not only represents the latest technology of electric bicycles, but also a new definition of smart and environmentally friendly travel methods.
lisa
DYU
service@dyucycle.com
Source link
The content is by EIN Presswire. Headlines of Today Media is not responsible for the content provided or any links related to this content. Headlines of Today Media is not responsible for the correctness, topicality or the quality of the content.
Subscribe us on