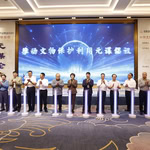 YUANMOU, China–(BUSINESS WIRE)–The forum titled "Exploring the Origins of Chinese Civilization in Yuanmou" was held on October 24th in Yuanmou County, Chuxiong Yi Autonomous Prefecture, Yunnan Province, China.
The forum, as a key event of the Creative Yunnan Culture Industries Expo, brought together dozens of renowned experts and scholars across the country to explore the digitization of cultural relics. The aim was to popularize the cultural relics, promote cultural creativity, bolster cultural industries, and integrate culture with tourism.
While Zeng Yan, minister of the publicity department of the CPC provincial committee of Yunnan, and Liu Yong, CPC party secretary of Chuxiong committee in Yunnan, both attended the opening ceremony and delivered speeches, top expert Shan Jixiang, former Director of the State Administration of Cultural Heritage, and former Director of the Palace Museum, sent his congratulations via video speech.
Themed "Digitizing cultural relics: promoting their active utilization, preservation, and heritage protection", the forum aimed to advance theoretical research related to the origins of Chinese civilization, the construction and operation of national archaeological sites, research and strategic approaches to cultural industry development, and academic discussions on ancient human studies. It seeks to enhance the sense of identity, recognition, and influence of Chuxiong city as the ancestral homeland of Eastern humanity.
Although Yuanmou and the Forbidden City in Beijing are far apart, both places share a strong commitment to the creative transformation and innovative development of excellent traditional Chinese culture. They have engaged in multiple exchanges and discussions, and the next step will involve intensifying cooperation in areas such as the development of cultural and creative products.
Therefore, at the opening ceremony of the forum, Shi Xiumin, researcher of the Palace Museum, made a presentation. In addition, An Lei, expert from the State Administration of Cultural Heritage, introduced the planning status of the Yuanmou Hominid Site National Archaeological Park.
During the forum, there were also two parallel sessions, one was "From antiquity to civilization, activation and preservation of cultural relics" and the other was "Digital empowerment of cultural industries, the path and mechanism of culture supporting rural revitalization."
The forum witnessed a series of fruitful collaborations related to Yuanmou Man culture research and promotion. Many organizations or institutions such as Yunnan Provincial Radio and Television, Yunnan Provincial Federation of Social Sciences, Yunnan Daily Press Group and Yunnan Publishing Group, signed cooperation agreements with Chuxiong.
Furthermore, the attendees of the forum jointly issued the "Initiative to Promote the Protection and Utilization of Cultural Relics in Yuanmou."
Contacts
Lu Zhang

TEL: 0755 8435 6030

E-mail: lu.zhang@encyclovision.com
Source link
The content is by Business Wire. Headlines of Today Media is not responsible for the content provided or any links related to this content. Headlines of Today Media is not responsible for the correctness, topicality or the quality of the content.
Subscribe us on