BAJA CALIFORNIA, Mexico, Sept. 11, 2023 (SEND2PRESS NEWSWIRE) — Wine producer Dovinto Vinicola Destino is pleased to announce that, in conjunction with producer Digitl Mediums, it is in post-production of short- and long-form content as part of the introduction of Dovinto's award-winning wines to the United States market. With its rich heritage and dedication to producing exceptional wines, Dovinto aims to captivate wine enthusiasts across America with the unique flavors and characteristics of its uniquely-created premium Mexican wines.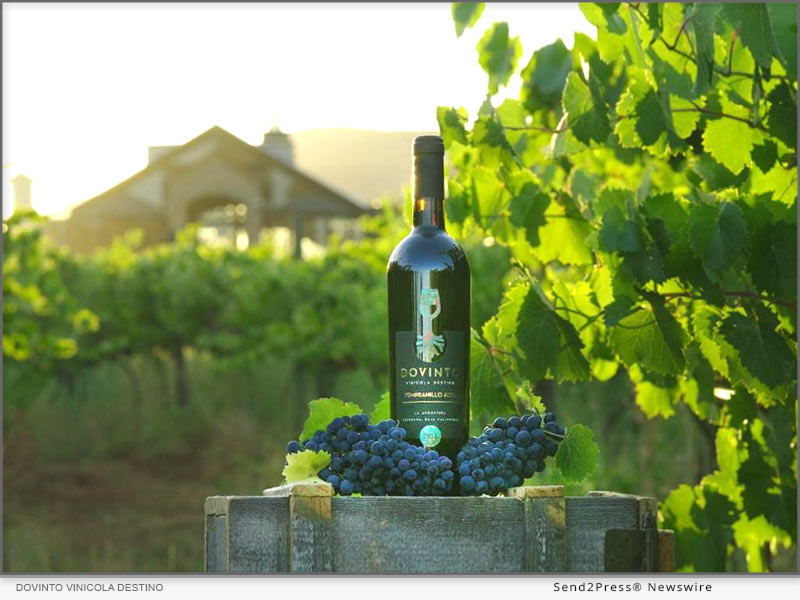 Image Caption: Dovinto Vinicola Destino Wine.
The Dovinto vineyards are nestled in the picturesque region of Baja California, the birthplace of wine cultivation in the Americas, where the perfect combination of climate, soil, and elevation creates an optimal environment for grape cultivation. This distinct terroir imparts a distinctive quality to the wines, resulting in a diverse portfolio red and white wines that showcases the true essence of winemaking.
"We have spent the last ten years perfecting the systems and cultivating the grapes for our sustainable wine-making process," said founder Jesus Sesma. "We, along with our production partners, look forward to introducing Dovinto and its wines to the American market. Our wines represent the culmination of our passion for winemaking, our commitment to sustainability and the rich heritage of Mexican winemaking. We are confident that American wine lovers will appreciate the depth and complexity of flavors our wines offer."
Dovinto takes pride in blending traditional methods, innovative techniques and sustainable practices, ensuring that the production process respects the environment and the surrounding communities. By implementing eco-friendly initiatives, such as water conservation, solar energy utilization and organic farming methods, Dovinto strives to protect the natural beauty of the regions where its vineyards flourish. Dovinto manufactures its own proprietary bio-fertilizers, bio-fungicides and bio-pesticides on the property, all using natural methods.
"To celebrate its entry into the U.S. market, Dovinto will be sponsoring an array of exciting events," said Herbert Dogan, CEO of Digitl Mediums. "As part of this process, we have partnered with multiple Emmy award-winning Music Composer, multi-instrumentalist and Film Director Jonny Shaheri; multiple Golden Reel and Daytime Emmy award-winning Sound Designer Daisuke Sawa; and HBO and Disney+ actor Adriana Sofia Fontánez."
"Dovinto is unique, both in its history and its process," said strategic executive Humberto Arechiga. "I am proud to be part of the process of introducing Dovinto's story to and securing distribution of its wines for U.S. audiences."
"The Dovinto project has become very personal for me," said Jonny Shaheri. "I am composing original music for the Dovinto production that will help convey how unique Dovinto and its wines are."
"Coming out from a dark cutting room in Hollywood, I am looking forward to presenting the sound scape of the sunny Dovinto winery in Baja California," said Daisuke Sawa.
"I very much appreciated being part of the Dovinto story," said Adriana Sofia Fontánez. "US audiences will now be able to see the unique process by which the Dovinto wines are crafted, resulting in wines that taste great and are healthier."
Starting in California and eventually expanding throughout the U.S., Dovinto's wines will soon be available at select retailers, fine dining establishments and through its online platform. This will allow wine enthusiasts to indulge in the finest expressions of winemaking.
About Dovinto:
Established by Jesus Sesma in 2010, Dovinto is dedicated to producing only the finest bio-organic wines that can rival the world's best. He chose Baja California, the birthplace of wine cultivation in the Americas, as the home for Dovinto Vinicola Destino. Dovinto is an award-winning winery that believes in natural, biological, sustainable and sustainable viticulture. It uses solar energy in 100% of its processes, vinifying without corrections or additives and taking care of the soil because it is the key to our health and a healthy environment.
Dovinto manufactures its own proprietary bio-fertilizers, bio-fungicides and bio-pesticides on-site, all using natural methods. No herbicides are used – weeds are manually removed and reincorporated into the soil.
For more information, please visit: https://dovinto.com
About Digitl Mediums:
Digitl Mediums is a purpose-built team of strategists, digital marketing experts, creatives, and influencers passionate about building, evolving, and amplifying the reach, voice, people, and product offerings of the brands it represents. Digitl Mediums' collective experience is heavily rooted in sports, art, entertainment, and emerging culture to create the kind of advertising people want to experience, witness, hear, feel, promote, and pay for.
Digitl Mediums' principals have been in the industry for over 40 years with experience working with some of the best in the industry, such as Nike, Sprite, Gatorade, Verizon, ADIDAS, and Spark Communications.
For more information, please visit: https://digitlmediums.com/.
About Humberto Arechiga:
Humberto Arechiga is the Chairman of Topline Entertainment, LLC, a film and TV Production Company. He produced "Elephant White" written by Kevin Bernhardt and financed by Nu Image/Millennium Films and signed two-time Academy Award Nominee Djimon Hounsou to star and Kevin Bacon as Co-Stars. Humberto began his career at Aero California Airlines, where he spent 20 years as Director of International purchasing.
About Jonny Shaheri:
Jonny Shaheri is an Emmy® award-winning Music Composer, multi-instrumentalist, and Film Director based in Los Angeles. He began his career leading various musical groups which eventually led him to scoring commercials, television shows and films. He started working at Hans Zimmer's company Bleeding Fingers in 2019, writing and composing music for TV shows, documentaries, and films. Jonny also has directed numerous short films, music videos, and TV commercials. He is currently working on his first feature film. For more information, please visit: https://jonnyshaheri.com/
About Daisuke Sawa:
Daiuke Sawa is a multiple award-winning Sound Designer based in Los Angeles. He has been nominated for 15 Golden Reel Awards, winning 4 times for Best Sound Editing in Television Animation (3 times) and Best Sound Editing in Direct to Video (one time). He has also been nominated for 6 Daytime Emmy Awards, winning twice for Outstanding Sound Editing – Live Action and Animation. For more information, please visit: https://m.imdb.com/name/nm1208614/
About Adriana Sofia Fontánez:
Adriana Sofia Fontánez is an actor and singer based in Puerto Rico. She is known for playing the role of Cari in the HBO Max family series "Gordita Chronicles" and Vero in Disney+'s "GinaYei". For more information, please visit: https://m.imdb.com/name/nm13585686/
MEDIA CONTACT:
Dovinto International, LLC
Herbert Dogan (310-433-8072)
hgd@digitlmediums.com
Social media: @dovintousa #dovinto #vinicola #wine #winedestination @DovintoMX #dovinto #vinicola #Vino #vinodestino
News Source: Dovinto Vinicola Destino