LOS ANGELES, Sept. 07, 2023 (GLOBE NEWSWIRE) — The Dental Burs Market is poised for consistent expansion in the upcoming years, propelled by the increasing incidence of dental ailments and the widespread acceptance of cosmetic and implant dentistry on a global scale.
The dental burs market is on a promising growth trajectory for the foreseeable future. This growth is underpinned by several key factors that shape the landscape of dental care globally.
Dental burs, those indispensable tools in the arsenal of dentists and dental professionals, play a pivotal role in various clinical procedures. These rotary cutting instruments, typically fashioned from high-quality materials such as tungsten carbide or diamond particles, are renowned for their durability and precision in dental work.
Their versatility shines through in the multitude of tasks they tackle within dentistry. From preparing teeth for treatment to the meticulous removal of decayed or damaged tissue, shaping dental restorations like crowns and fillings, to the delicate work of smoothing and polishing dental surfaces, dental burs are the go-to instruments.
Their diversity is evident in the myriad shapes, sizes, and designs available, each meticulously tailored to specific dental procedures. For instance, round burs are often wielded with finesse in caries removal, while pear-shaped burs prove invaluable in preparing teeth for the precise placement of crowns.
In the realm of dental procedures, the choice of the right bur is nothing short of paramount. It significantly influences the efficiency and precision of dental work, requiring dental professionals to consider crucial factors such as bur head size, shank type, and the nature of the material they are working on.
Recent years have ushered in remarkable advancements in dental technology, giving rise to innovative burs that boast enhanced cutting efficiency and reduced vibration. These developments not only elevate patient comfort but also contribute to shorter treatment durations.
Dental Burs Market Highlights and Statistics:
The Dental Burs Market size is projected to reach USD 989 Million by 2032, marking significant growth from its 2022 valuation of USD 578 million. This growth trajectory reflects a robust Compound Annual Growth Rate (CAGR) of 5.7% during the forecast period.
In 2022, North America spearheaded the market, claiming a substantial share exceeding 38%, largely attributed to its advanced healthcare infrastructure and robust dental care facilities.
Within the application segment, cavity preparation emerged as the dominant area in 2022, commanding a market share of 29%. This prominence is closely related to the increasing number of dental restoration procedures and prosthetic treatments being performed globally.
Furthermore, a mounting demand for minimally invasive and painless dental surgeries is contributing significantly to the market's expansion, indicative of evolving preferences and advancements in dental care practices.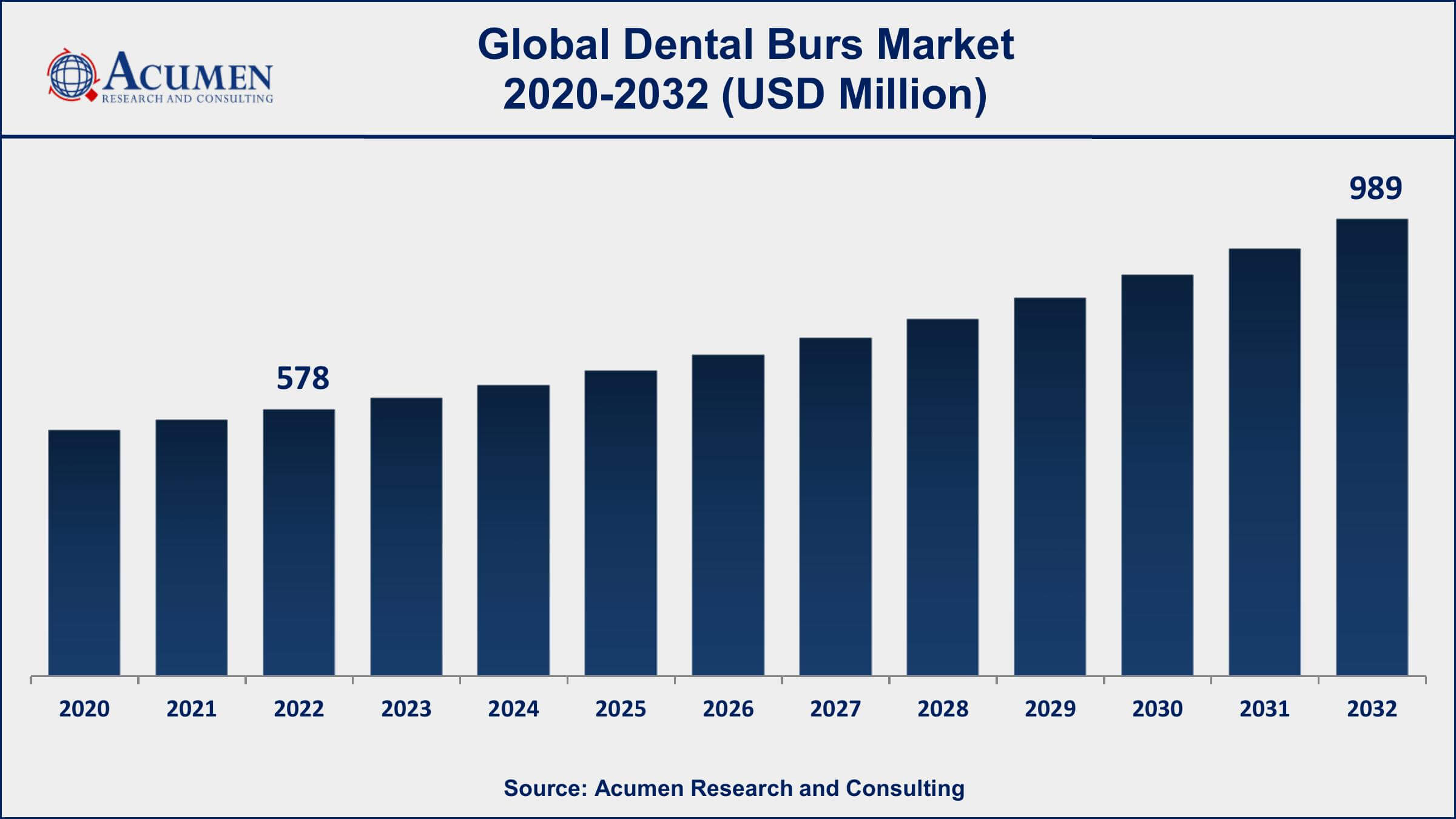 Request For Free Sample Report @ https://www.acumenresearchandconsulting.com/request-sample/3345
Dental Burs Market Report Coverage:
Market
Dental Burs Market
Dental Burs Market Size 2022
USD 578 Million
Dental Burs Market Forecast 2032
USD 989 Million
Dental Burs Market CAGR During 2023 – 2032
5.7%
 
Dental Burs Market Analysis Period
2020 – 2032
Dental Burs Market Base Year
2022
 
Dental Burs Market Forecast Data
2023 – 2032
Segments Covered
By Application, By Material, By End-user, And By Geography
Dental Burs Market Regional Scope
North America, Europe, Asia Pacific, Latin America, and Middle East & Africa
Key Companies Profiled
Dentsply Sirona, Komet USA, Brasseler USA, Kerr Corporation, SS White Dental Inc., Mani, Inc., Shofu Dental Corporation, NTI-Kahla GmbH, Johnson Promident, Micro-Mega, Prima Dental Group, and Strauss Diamond Instruments.
Report Coverage
Market Trends, Drivers, Restraints, Competitive Analysis, Player Profiling, Regulation Analysis
Dental Burs Market Overview and Growth Factors:
The growth of the dental burs market is driven by a multitude of influential factors, all contributing to its promising outlook:
Dental burs, indispensable instruments in a wide array of dental procedures such as cavity preparation, tooth extraction, and root canal therapy, hold a pivotal role within the dental industry. They are equally indispensable in cosmetic dentistry practices, where tasks like teeth whitening and bonding require precision.
The upward trajectory of the dental burs market is notably influenced by the increasing incidence of dental conditions, notably tooth decay and gum disease. These conditions are significant catalysts for market growth, further fueled by the heightened awareness of oral health and the rise in disposable income among individuals.
The demand for cosmetic dentistry procedures, which encompass treatments like teeth whitening and bonding aimed at enhancing the aesthetic appeal of teeth, has been on the rise across various age groups. This surge in demand signifies a significant driver of market expansion.
Moreover, ongoing advancements within the field of dentistry have a profound impact on market growth. Innovative dental burs continue to be developed, offering superior efficiency and effectiveness compared to their conventional counterparts.
The presence of favorable dental insurance policies and the burgeoning trend of medical tourism, particularly for dental procedures such as implants, are poised to further propel market expansion. Dental insurance policies are becoming increasingly accessible and cost-effective, rendering dental treatments more attainable for a broader spectrum of individuals. Simultaneously, the allure of medical tourism stems from the quest for cost-efficient yet high-quality dental care.
Trends in the Dental Burs Market:
The growing embrace of diamond-coated tungsten carbide and zirconia burs within the dental industry.
A heightened demand for sterilized packs and disposable burs to mitigate the risk of cross-contamination during procedures.
A notable emphasis on the development of precision dental handpieces powered by electricity.
Ongoing advancements in CAD/CAM technologies, particularly in the areas of design and manufacturing.
The increasing utilization of minimally invasive surgical burs in dental procedures.
Dental Burs Market Biggest Drivers:
The increasing occurrence of dental caries, periodontitis, and edentulism on a global scale.
A rising prevalence of cosmetic dentistry procedures, including treatments such as teeth whitening and shaping.
An upswing in dental spending and expanding disposable incomes among individuals.
The facilitation of treatment adoption through favorable dental insurance policies.
A growing awareness pertaining to the significance of oral health and hygiene practices.
Key Hindering Factors in the Dental Burs Market:
Unfavorable consequences such as tissue necrosis and pulp exposure.
The elevated expenses associated with advanced surgical carbide and diamond burs.
A shortage of proficient dentists, which hampers widespread adoption in developing areas.
Limited reimbursement coverage for dental procedures in emerging economies.
Frequent advancements in product offerings, leading to relatively brief product lifecycles.
Check the detailed table of contents of the report @
https://www.acumenresearchandconsulting.com/table-of-content/dental-burs-market
Dental Burs Market Segmentation:
As per the Application
Orthodontics applications
Cavity Preparation applications
Implantology applications
Oral Surgery applications
Other applications
As per the Material
Stainless Steel type
Carbide type
Diamond Burs type
As per the End-users
Dental Clinics uses
Hospital uses
Other uses
Dental Burs Market by Region:
North America commands the foremost position in the dental burs market, with Europe and Asia Pacific closely trailing behind in terms of market size and influence. This dominant position in North America is primarily attributed to the escalating incidence of dental ailments, a noticeable uptick in dental healthcare spending, and the surging demand for cosmetic dentistry procedures.
Buy this premium research report –
https://www.acumenresearchandconsulting.com/buy-now/0/3345
Major Players of the Dental Burs Market:
COLTENE Group, Danaher Corporation, Dentsply Sirona, Integra LifeSciences Holdings Corporation, Henry Schein, Inc., Komet Dental, Septodont Holding, SS White, Tri Hawk Inc. and Zimmer Biomet Holdings Inc.
Browse More Research Topic on Healthcare Sector Related Reports:
Vital Signs Monitoring Devices Market Size – Global Industry, Share, Analysis, Trends and Forecast 2023 – 2032
Vessel Sealing Devices Market Size – Global Industry, Share, Analysis, Trends and Forecast 2023 – 2032
Sports Medicine Devices Market Size – Global Industry, Share, Analysis, Trends and Forecast 2023 – 2032
Browse Our Official Website Press release:
https://www.acumenresearchandconsulting.com/press-releases/dental-burs-market
About Acumen Research and Consulting:
Acumen Research and Consulting is a global provider of market intelligence and consulting services to information technology, investment, telecommunication, manufacturing, and consumer technology markets. ARC helps investment communities, IT professionals, and business executives to make fact-based decisions on technology purchases and develop firm growth strategies to sustain market competition. With the team size of 100+ Analysts and collective industry experience of more than 200 years, Acumen Research and Consulting assures to deliver a combination of industry knowledge along with global and country level expertise.
For Latest Update Follow Us on Twitter , Instagram and LinkedIn
Contact Us:
Mr. Richard Johnson
Acumen Research and Consulting
USA: +13474743864
India: +918983225533
E-mail: sales@acumenresearchandconsulting.com

The content is by Globe Newswire. Headlines of Today Media is not responsible for the content provided or any links related to this content. Headlines of Today Media is not responsible for the correctness, topicality or the quality of the content.