NEW YORK, USA, March 07, 2023 (GLOBE NEWSWIRE) — The recovery of the global economy constantly enriches the variety of financial trading markets. It advances the development of science and technology, during which more and more digital financial trading platforms are springing up. Among so many financial trading platforms, DCMcoin cryptocurrency exchange, due to its advanced blockchain technology and outstanding service reputation, has ranked among the top five derivatives trading platforms (in terms of trading volume) in the world, becoming the platform of choice for more than 10,000 users and 55,000 professional traders in more than eight countries around the world.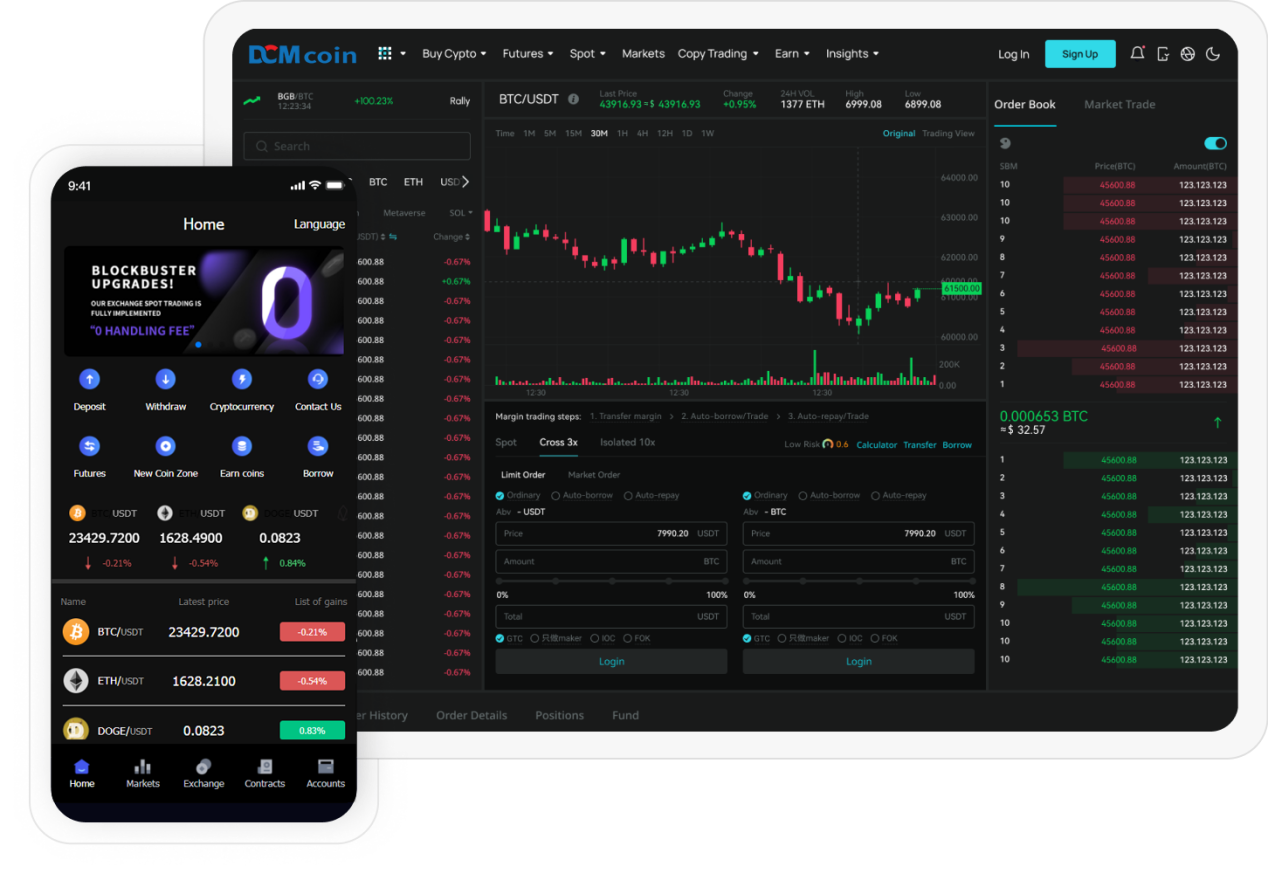 Decentralization makes investment securer and more transparent
DCMcoin is a financial integrated service platform specializing in blockchain crypto decentralized derivatives, including stock, foreign exchange, cryptocurrency, financial futures and global futures contract brokerage and trading. DCMcoin is committed to rendering users with efficient, secure, convenient and reliable digital asset trading and investment services, and its platform, which is built on the most advanced blockchain technology, guarantees the security of users' assets, information and privacy, and provides round-the-clock customer support.
DCMcoin is characterized by decentralization, which means that its transactions are directly conducted by users rather than relying on centralized institutions, ensuring the fairness and transparency of transactions.
Innovative services make investment easier and more convenient
DCMcoin's service team is composed of top people from various industries such as foreign exchange, securities, futures, bitcoin, etc. With rich experience in financial derivatives trading and in-depth research and analysis of market trends, the team provides customers with the best investment information services. It helps them obtain the most valuable investment information the first time and optimize currency investment strategies. In addition, the DCMcoin platform also offers a wealth of market data and analytical tools so that customers can research and analyze according to their needs to make more informed investment decisions. The team will provide the best quality service and support for both individual users and enterprise customers, 24 hours per day and seven days per week, so as to ensure smooth transactions and help customers better integrate into the global financial investment system.
As an "outstanding" financial online trading platform, DCMcoin has stayed true to its original aspiration and actively complied with regulations since its establishment in 2018. So far, with innovative services and advanced technology, DCMcoin has become one of the world's most professional cryptocurrency trading service providers, and has expanded its business scope to the US, Europe, Asia, Australia and other regions.
As a digital asset exchange focused on blockchain technology, DCMcoin also does an excellent job in terms of ensuring the platform's security. DCMcoin adopts the most advanced encryption technology and multiple authentication mechanisms to safeguard users' digital assets. In addition, DCMcoin carries out meticulous planning and design on the operation and management of the platform to guarantee its efficiency and stability.
Surveying the global financial market landscape, exchanges serve as an irreplaceable place for the circulation and price discovery of crypto assets. Professional trading platforms can bring customers a secure trading environment and ensure smooth trading. DCMcoin, as a professional trading platform that has been deeply engaged in the cryptocurrency field for many years, will continue to provide traders with a high-quality trading environment and customer services and push the steady development of the financial market.
Disclosure:
This press release may contain forward-looking statements. Forward-looking statements describe future expectations, plans, results, or strategies (including product offerings, regulatory plans, and business plans) and may change without notice. You are cautioned that such statements are subject to a multitude of risks and uncertainties that could cause future circumstances, events, or results to differ materially from those projected in the forward-looking statements, including the risks that actual results may differ materially from those projected in the forward-looking statements.