LONG BEACH, Calif., June 1, 2023 (SEND2PRESS NEWSWIRE) — Art-In-Relation (A.I.R.) is proud to present a special evening concert, in collaboration with Our Saviour's Lutheran Church, featuring a group of exceptional performers. This talented ensemble will come together to deliver an inspiring musical experience. With a repertoire that reflects the significance of Juneteenth and embraces a message of change and freedom, this concert promises to be a memorable celebration.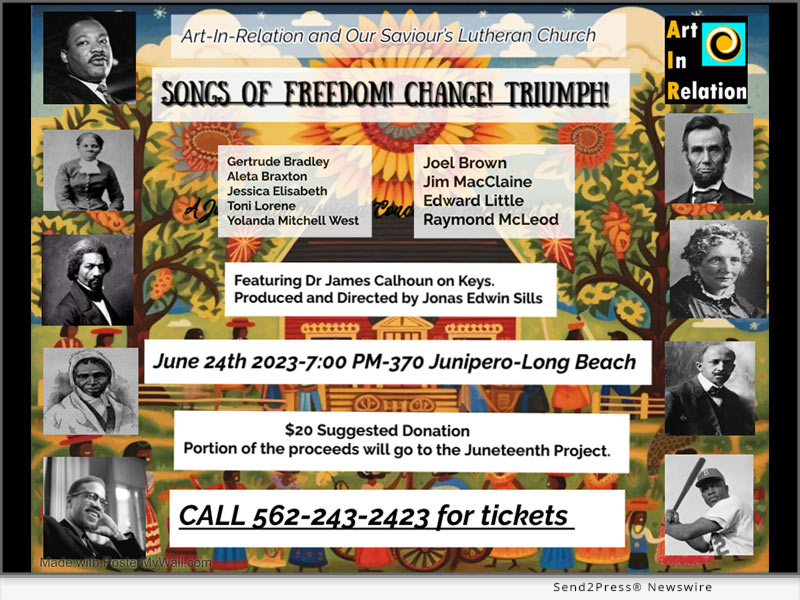 Image Caption: Art-In-Relation Presents an Unforgettable Evening Concert.
The concert will take place on June 24 at 7 p.m., hosted within the tranquil ambiance of Our Saviour's Lutheran Church, located at 370 Junipero Avenue in Long Beach. This captivating event will undoubtedly captivate the hearts and minds of all in attendance.
The performers for this extraordinary concert are a group of highly skilled professionals with diverse backgrounds, including Broadway, opera, and professional choral music. Their collective talent, coupled with their deep understanding of the music they perform, ensures a powerful and moving experience for the audience.
"I am thrilled to share as a singer some of the most beautiful music in the world, born from bondage and pain yet transcending the pain to offer healing," says Joel Brown, performer and communication assistant for the program.
The program also includes the remarkable talents of Aleta Braxton, Gertrude Bradley, Joel Brown, Jessica Elisabeth, Edward Little, Toni Lorene, Jim MacClaine, Raymond Jamarillo McLeod, Jonas Edwin Sills, and. Yolanda Mitchell West. James Calhoun will be playing organ and piano. Special guest instrumentalists David Sills, Saxophone, and Benton Preciado on Cello will play on certain pieces.
Jonas and Heidi Sills, founders of Art-In-Relation were proud to have produced almost two dozen productions of theater and music over five years. After a pandemic hiatus, and witnessing the continuing social struggles firsthand from their downtown Long Beach office and home, A.I.R. is returning with a enhanced social as well as artistic mission.
"Art-In-Relation is thrilled to collaborate with Our Saviour's Lutheran Church to bring this exceptional concert to the Long Beach community," said Heidi Ornelas Sills, outreach director for the concert.
"Through the power of music, we aim to honor Juneteenth's significance while advocating for inclusivity, social change, and the continuing struggle of freedom," adds Jonas Edwin Sills.
TICKETS:
Tickets for this transformative event are available now and can be obtained by calling 562-243-2423.
A suggested donation of $20 is encouraged, with proceeds donated to "The Juneteenth Project," Art-In-Relation and Our Saviour's Lutheran Church music program.
Don't miss this opportunity to be a part of an extraordinary evening that celebrates the struggles of the past, acknowledges the challenges of the present, and inspires hope for the future. Join us on June 24th, 7:00PM at Our Saviour's Lutheran Church for a concert that will resonate within your soul, reminding us all of the enduring power of freedom.
INFORMATION:
LEARN MORE: http://www.artinrelation.com/
For more information, media inquiries and tickets please contact:
Name: Heidi Ornelas Sills
Title: Sales and Outreach, Art-In-Relation
Email: heidiosills@yahoo.com
Phone: 562-243-2423
Tickets sold in advance will include a free beverage and snack.
ABOUT ART-IN-RELATION:
Art-In-Relation is a dynamic production company dedicated to producing innovative and engaging performing arts experiences. With a commitment to artistic excellence, community engagement, and social impact, Art-In-Relation collaborates with local organizations and venues to bring transformative performances to diverse audiences.
Now in its rise after the world pandemic, Art-In-Relation's mission is creating community through the arts. Breathing "A.I.R." and new energy into the community by creating unique concerts, musical works, events, theatrical presentations, and unique multi- disciplinary genres! A.I.R. has an affinity and history with "Broadway Style" Musical Theatre, but it its current incarnation is focusing on "concert style performances."
A.I.R. is committed to encouraging relation between professionals, aspiring, and talented amateurs to work together in a collaborative environment ALL learning from and respecting each other. A.I.R. is dedicated to quality performances that create lasting relationships, that go far beyond individual productions. We are led to create new, never before seen works of art, and also traditional performances with a modern or new flair. We challenge you to not only be entertained, but educated, enriched, and even enlightened.
LEARN MORE: http://www.artinrelation.com/.
News Source: Art-In-Relation