CALGARY, Alberta, Nov. 06, 2023 (GLOBE NEWSWIRE) — Acceleware Ltd. ("Acceleware" or the "Company") (TSX-V: AXE), a leading innovator of transformative technologies targeting the decarbonization of industrial heating, is pleased to announce an agreement for $3 million in non-dilutive grant funding with the Clean Resource Innovation Network ("CRIN"). The funding will be applied to eligible project costs incurred between January 1, 2022 and March 31, 2024 for the commercial-scale pilot of RF XL at Marwayne, Alberta ("the Pilot"). CRIN's funding is intended to accelerate clean technology development and commercialization for oil and gas industry challenges, and is made possible by the Government of Canada's Strategic Innovation Fund. Funded projects are expected to accelerate solutions to significantly improve environmental performance, help meet climate targets and provide economic and public benefits for Canada.
"We look forward to CRIN joining our ongoing collaboration with funding partners Sustainable Development Technology Canada, Alberta Innovates, Emissions Reduction Alberta, and our three industry partners. These funds are critical in helping us proving out the RF XL technology, said Geoff Clark, Acceleware CEO. "We are keenly aware of how important the decarbonization of heavy oil production is to the clean energy initiatives of Alberta and Canada."
"CRIN is pleased to provide this funding for Acceleware's RF XL pilot," said Glen McCrimmon, CRIN's Director of Operations. This project aligns well with CRIN's vision where Canada is the global leader in clean hydrocarbons from source to end use and exemplifies how oil and gas energy development and environmental stewardship can go hand-in-hand. We look forward to seeing Acceleware's progress in the coming months."
RF XL is a transformative electrification technology that could provide combustion-free heating via radio frequency energy for heavy oil and oil sands production. Not only could it eliminate direct GHG emissions generated during extraction and eliminate the need for any carbon capture, but RF XL would also eliminate the requirement for fresh water, water treatment facilities and significantly reduce land footprint. RF XL is also expected to lower capital costs by fifty percent and operational costs by forty percent, providing the potential for this decarbonization technology to play an important and profitable role in the energy transition.
CRIN funding comes as a welcome addition to over $16.4 million already received from federal and provincial government funders, and will be an excellent complement to Acceleware's recently closed private placement.
RF XL is the first of several electrification of industrial heating applications that Acceleware is commercializing, largely since the near-term decarbonization of heavy oil and oil sands production will play a critical role in a successful energy transition. Work is also underway for decarbonization of other heavy emitting industrial heating applications, where Acceleware will leverage its in-house expertise in leading-edge electrification technologies to provide optimized, economic solutions for the reduction of GHG emissions in large-scale industrial heating processes.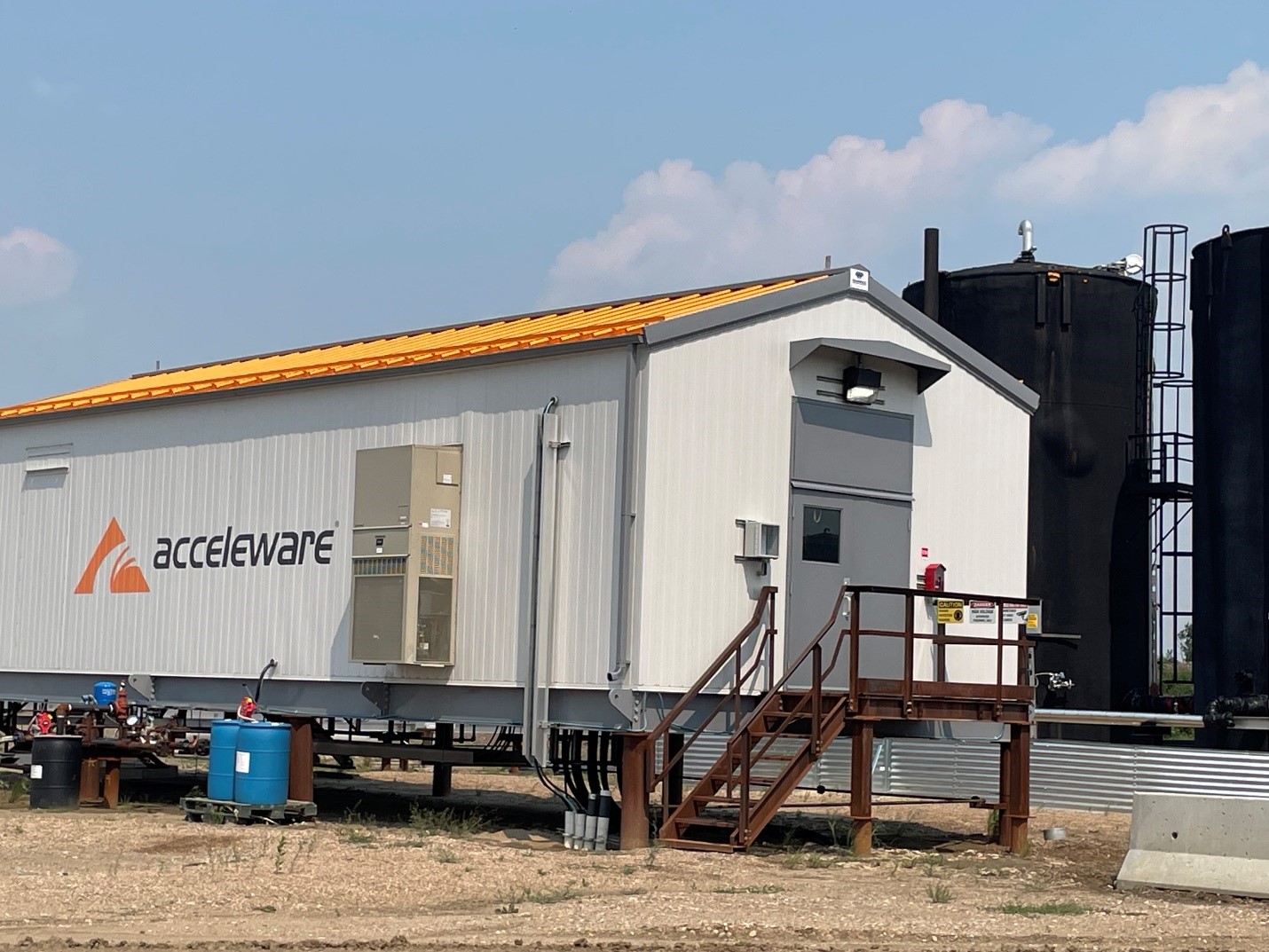 E-house at Acceleware's RF XL Commercial-Scale Pilot Test at Marwayne, AB. July 2023
About CRIN
The Clean Resource Innovation Network (CRIN)is a pan-Canadian network focused on ensuring Canada's hydrocarbon resources are sustainably developed and integrated into global energy systems. CRIN, as a 'network of networks,' connects a vast array of skills, knowledge and experience from oil and gas and other industries to technology developers, researchers, government, investors, academia, entrepreneurs, and youth. By identifying industry challenges, we create market pull in order to accelerate the commercialization and widespread adoption of clean technology, leading to significant environmental, economic, and public benefits to Canada. CRIN is supported in part by a $100-million investment from the Government of Canada's Strategic Innovation Fund (SIF).
About Acceleware
Acceleware is an innovator of clean-tech decarbonization technologies comprised of two business units: Radio Frequency Heating Technology and Seismic Imaging Software.
Acceleware is piloting RF XL, its patented low-cost, low-carbon production technology for heavy oil and oil sands that is materially different from any heavy oil recovery technique used today. Acceleware's vision is that electrification of heavy oil and oil sands production can be made possible through RF XL, supporting a transition to much cleaner energy production that can quickly bend the emissions curve downward. With clean electricity, Acceleware's RF XL technology could eliminate greenhouse gas (GHG) emissions associated with heavy oil and oil sands production. RF XL uses no water, requires no solvent, has a small physical footprint, can be redeployed from site to site, and can be applied to a multitude of reservoir types. Acceleware is also actively developing partnerships for RF heating of other industrial applications using the Company's proprietary CTI.
Acceleware and Saa Dene Group (co-founded by Jim Boucher) have created Acceleware | Kisâstwêw to raise the profile, adoption, and value of Acceleware technologies. The shared vision of the partnership is to improve the environmental and economic performance of the energy sector by supporting ideals that are important to Indigenous peoples, including respect for land, water, and clean air.
The Company's seismic imaging software solutions are state-of-the-art for high fidelity imaging, providing the most accurate and advanced imaging available for oil exploration in complex geologies. Acceleware is a public company listed on Canada's TSX Venture Exchange under the trading symbol "AXE".
Disclaimers
This news release contains "forward-looking information" and "forward-looking statements" (collectively, "forward-looking statements") within the meaning of the applicable Canadian securities legislation. All statements, other than statements of historical fact, are forward-looking statements and are based on expectations, estimates and projections as at the date of this release. Any statement that involves discussions with respect to predictions, expectations, beliefs, plans, projections, objectives, assumptions, future events or performance (often but not always using phrases such as "expects", "anticipates", "plans", "continues", "budget", "scheduled", "forecasts", "estimates", "believes" or "intends" or variations or negatives of such words and phrases or stating that certain actions, events or results "may" or "could", "would", "might", "shall" or "will" be taken to occur or be achieved) are not statements of historical fact and may be forward-looking statements.
In this news release, forward-looking statements relate to, among other things, statements relating to the benefits of RF XL, future operation of the Pilot, prospective performance of the Company, the status and advancement upgrades and repairs, the anticipated development, application and market potential of CTI, the receipt of regulatory approvals for the Private Placement (including TSXV approvals) and the timing thereof, statutory hold periods, the terms and conditions of the Private Placement, the Closing Date for the Private Placement, the anticipated use of proceeds from the Private Placement and the participation of related parties in the Private Placement. Various assumptions or factors are typically applied in drawing conclusions or making the forecasts or projections set out in forward-looking information. Those assumptions and factors are based on information currently available to the Company. The material facts and assumptions include obtaining approval of the TSXV of the proposed Private Placement, the availability of certain prospectus exemptions in respect of the Private Placement and the intended use of proceeds remaining in the best interests of the Company. Actual results may vary from the forward-looking information in this news release due to certain material risk factors. The Company cautions the reader that the above list of risk factors is not exhaustive and additional risk factors risk factors are described in detail in Acceleware's continuous disclosure documents, which are filed on SEDAR at www.sedar.com. The forward-looking information contained in this release is made as of the date hereof and the Company is not obligated to update or revise any forward-looking information, whether as a result of new information, future events or otherwise, except as required by applicable securities laws. Due to the risks, uncertainties and assumptions contained herein, investors should not place undue reliance on forward-looking information. The foregoing statements expressly qualify any forward-looking information contained herein.
Neither the TSXV nor its Regulation Services Provider (as that term is defined in the policies of the TSXV) accepts responsibility for the adequacy or accuracy of this release.
For further information:
Geoff Clark, CEO
Tel: +1 (403) 249-9099
geoff.clark@acceleware.com
Acceleware Ltd.
435 10th Avenue SE
Calgary, AB, T2G 0W3 Canada
Tel: +1 (403) 249-9099}
www.acceleware.com
A photo accompanying this announcement is available at https://www.globenewswire.com/NewsRoom/AttachmentNg/48e927be-1546-46f2-99a2-08f547705412

Source link
The content is by Globe Newswire. Headlines of Today Media is not responsible for the content provided or any links related to this content. Headlines of Today Media is not responsible for the correctness, topicality or the quality of the content.
Subscribe us on