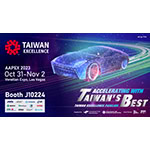 November 1st product launch event to spotlight AI, IoV, security, and EV innovators as part of seamless supply chain helping shape the evolution and future of global automotive industry
LAS VEGAS–(BUSINESS WIRE)–AAPEX – With the theme "Accelerating with Taiwan's Best," Taiwan Excellence – the symbol representing the best and most innovative Taiwanese products — is revving up to exhibit a multitude of technologically advanced automotive systems and components at AAPEX 2023, Oct. 31 – Nov. 2 at the Venetian Expo, Las Vegas. Located at Booth #J10224, the pavilion will feature 12 top Taiwan innovators in AI, Internet of Vehicles (IoV), automotive security, and EVs. Working as part of the automotive supply chain, these companies are helping to bring outstanding ideas for future vehicles to fruition and contributing to the evolution and future of the global automotive industry.
At the Wednesday, November 1st product launch event at 2pm at the pavilion Booth #J10224, Taiwan Excellence will showcase four of these innovators: Chimei Motor, an automotive safety innovator, CUB, a Global leader in auto electrical parts, EverFocus, a smart transportation firm, and MiTAC Digital, Internet of Vehicles (IoV) pioneer. The Director of the Taipei Economic and Cultural Office in Los Angeles, Mr. Michael Liou, will deliver opening remarks and a presentation entitled "Explore Taiwan-America's Synergy on Automotive Ingenuity."
According to Research and Markets, the growth of the US automotive aftermarket is skyrocketing, and is expected to exceed US $479 billion by 2027. This growth is being driven by increasing digitization, widespread electrification, and uptake of connectivity-enabled solutions. Today, the US has become the largest market for Taiwan's automotive parts, accounting for more than 40% of the country's exports.
Taiwan Excellence Product Launch Event at AAPEX
Taiwan, known for its key role in the information technology global supply chain, remains committed to growing alongside the American auto supply chain. Taiwan's many cutting-edge automotive innovations — exemplified by the four presenting companies — also winners of the prestigious Taiwan Excellence Award — will be unveiled at the "Ingenuity in Motion: Accelerating with Taiwan's Best" product launch event.
| | |
| --- | --- |
| 1. | Chimei Motor An automotive safety systems innovator, Chimei is introducing two new products incorporating AI. Its Blind Spot Information System uses advanced AI recognition technology to alert drivers to risks about to occur and avoid collisions with people or bicyclists when turning. Its Driving Behavior Detection System monitors a driver's state and issues warnings when people show signs of dangerous behavior such as drowsiness, distraction, etc. |
| | |
| 2. | CUB A global automotive leader in electrical parts, CUB ELECPARTS will unveil two exciting new products. Its innovative millimeter radar Turn Assist and Blind Spot Detection System (for vehicles with large blind spots) and integrated Tire Pressure Monitoring System are leading the way to make the road safer for all vehicles. |
| | |
| 3. | EverFocus A leading provider of smart security and smart transportation solutions, EverFocus aims to jumpstart smart transportation with two new products. It's Smarter AI Mirror alerts drivers with voice and visual warnings when a pedestrian or cyclist is in the vehicle's blind spot. Its Mobile DVR records video footage of the vehicle's surroundings, for security and surveillance purposes. |
| | |
| 4. | MiTAC Digital embraces next-generation IoV to create smart dashcams that help users navigate the road with increased piece of mind and performance. Their new MioEYE K-Series' real-time in-vehicle warning mechanism and bidirectional communication features will revolutionize fleet management and driver behavior on the roads. |
Register for Product Launch Event
Taiwan Excellence will host the product launch event at its Pavilion Booth #J10224 from 2:00 pm – 3:00 pm on Wednesday, November 1st. The event will provide early access to these innovative companies' spokespeople and their products, as well as the opportunity to meet Taiwan government officials. To save a spot, AAPEX attendees and media representatives are encouraged to RSVP in advance. Media can also schedule one-on-one interviews by emailing Mary Placido at mary@skc-pr.com.
Visit Taiwan Excellence Pavilion Booth #J10224
In addition to the four companies presenting at the launch event, an additional eight companies will showcase and demo their innovative products. These include the following categories and brands:
EV and IoV Solutions

1.

MSI, renowned for its computing equipment, has ventured into electric vehicle (EV) development and will show its Smart EV Charger. The charger can be installed in the garage so users can charge at home. It provides charging power of 13.2 kW at 60 amps, is compatible with Type 1 and Type 2 plugs, and features a 7-inch charging screen and AI-powered license plate reader.

Automotive Components — Lighting, Fuses, & Tires

2.

Conquer Electronics, founded 45 years ago, offers a comprehensive range of fuses, including SMD, Dip, and Power fuses. It's showcasing four new fuses: EV Auxiliary Fuse series, NA Bolted Semiconductor Style Fuse series, and a Surface Mount Fuse.

3.

DEPO was founded in 1977 to carry out its philosophy of "Perfect Auto Lamps, Perfect Safety." Two decades later, it brought that philosophy – and high-quality replacement auto lamps – to the North American market via local distributor Maxzone. It will show two LED environmentally friendly auto lamps: the F-Style LED Performance Headlamp and SUV Style LED Performance taillamp which offer long service life, fast turn-on speed, and low energy consumption.

4.

Kenda Tire is a top manufacturer of bicycle, motorcycle, automotive, and wheelchair tires. The new Vezda Touring 4S is a "four-season" premium touring tire developed for the drivers of coupes, family sedans, crossovers, and minivans. In addition to a three-peak mountain snowflake rating, it features a 60,000-mile warranty.

5.

Topower provides automotive electronic components and lighting products. Its Sparkling Galaxy Heavy Duty Truck Headlight, designed for Kenworth long-haul trucks, features Y-shaped light bars and grille-shaped turn signals, both enhanced with LED technology. The Knight of Thunder LED Headlight, with its prominent 7-shaped LED light source, integrates the functions of driving lights, daytime running lights, welcome lights, and sequential turn signal lights into one unit.

6.

Zealio Electronics pioneered battery-powered LED logo illuminated car interior accessories, revolutionizing the market. Its new Battery Powered Car Carpet Logo Illumination and Battery Powered Doorsill Illumination automatically provide LED lighting when you open the car door.

Pneumatic Tools

7.

APACH A pioneer in the pneumatic tools market, APACH will show its Super Stubby Air Impact Wrench. Super Stubby is like having several power tools in one! Its flexible design allows the tool to be used with one-hand for forward and reverse, and 3 positions for each side.

8.

HYPHONE, a pneumatic tools innovator for over 30 years, is showing its Flexible Head AIR Random Orbital Sander for spot sanding and finishing applications, particularly in hard-to-reach areas. Its Industrial Low Vibration Impact Wrench-triple Hammer Mechanism is not only comfortable to use and powerful but also designed to reduce the risk of long-term injury.
Join us in Accelerating with Taiwan's Best at the Taiwan Excellence pavilion at Booth #J10224. To learn more about the pavilion or to schedule a visit, click here.
About TAIWAN EXCELLENCE and TAITRA:
Taiwan Excellence believes that only innovation can bring about change for a better life. A cross-disciplinary team of jurors search and hand select innovative brands in Taiwan that are breaking the mold in sustainability, design, research, and development. The Taiwan Excellence mark has become one of the world's most coveted and recognizable symbols of quality and design, showcasing Taiwan's outstanding product innovation around the globe. Please visit https://www.taiwanexcellence.org/en for more information.
Organized by:
Taiwan External Trade Development Council (TAITRA) is the foremost non-profit, semi-governmental trade promotion organization in Taiwan. Founded in 1970 to help promote foreign trade, TAITRA is jointly sponsored by the government, industry associations, and several commercial organizations. TAITRA assists Taiwanese businesses in strengthening their international competitiveness and in dealing with the challenges they face in foreign markets. TAITRA boasts a well-coordinated trade promotion and information network consisting of 1,300 trained specialists stationed throughout its Taipei headquarters and over 60 branches worldwide. Together with its sister organizations, the Taiwan Trade Center (TTC) and Taipei World Trade Center (TWTC), TAITRA has created a wealth of trade opportunities through effective promotion strategies. www.taitra.org.tw
International Trade Administration
The International Trade Administration, Ministry of Economic Affairs, Taiwan (TITA) is responsible for implementing policies and regulations governing foreign trade and economic cooperation. Its primary duties currently include participating in the activities of international economic and trade organizations and enhancing bilateral trade relations.
Contacts
Mary Placido

SKC, Inc.

(415) 218-3627

mary@skc-pr.com
Source link
The content is by Business Wire. Headlines of Today Media is not responsible for the content provided or any links related to this content. Headlines of Today Media is not responsible for the correctness, topicality or the quality of the content.
Subscribe us on